Local People's Assembly brave storms to lobby Craig Whittaker MP
Sunday, 8 November 2015
Thanks to Roger O'Doherty for this report
Yesterday, Saturday, members of the People's Assembly and friends held a mass lobby of Craig Whittaker MP's open surgery at the Cartwheel Youth and Community Centre in Elland.

Despite strong winds and and driving rain, the organisers were pleased with the turnout and spirits were high.
Three members of the group spoke to Mr Whittaker to ask that he lobbies the Chancellor, George Osborne, to fully reverse plans to cut Tax Credits. Mr Whittaker said he definitely would not do that as he agree with the "direction of travel" and the principle that the tax payer should not be subsidising low wages.
He asked us not to record the conversation and went on to say that he had however been "actively lobbying" George Osborne to ensure that people on low income did not lose out in the interim period between tax credits being cut and the minimum wage rising to close the gap.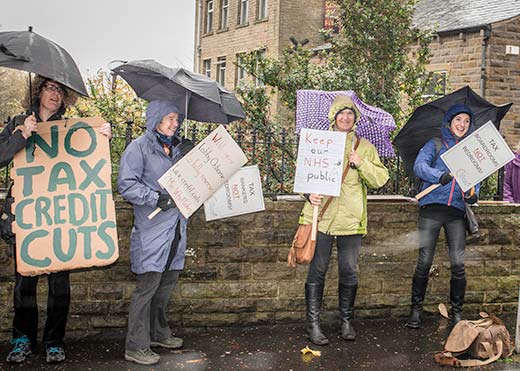 The People Assembly understands that a group of West Yorkshire Conservative MPs have been lobbying jointly on this issue.
Roger O'Doherty told the HebWeb, "The fact that right wingers of the ilk of Craig Whittaker are concerned about the impact of these cuts gives us an insight into the depth of the rift within the Conservative Party."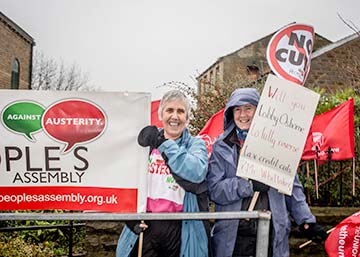 Campaigners went on to ask about the removal of Child Tax Credit from people with more than two children. Mr Whittaker said he "totally agreed" with this policy, that people shouldn't have more children than they can afford. That if you are rich you can have as many children as you like and live in a big house, but if you are poor you can't afford these things and should not expect the taxpayer to subsidise them.
Claire, who receives Tax Credits and works for a local charity was shocked. She said "He just didn't seem to understand that sometimes people with more than two children can fall on hard times or that not everyone is in full control of how many children they have. What if your second birth produces twins? What if you take in the child of a deceased relative?"
The Peoples Assembly will keep up the pressure on Craig Whittaker at future surgeries.