What's in a Name?
Hebden Bridge History Society meeting report.
Speaker: Barbara Atack and Keith Stansfield
Monday, 9 November 2015
Nah then, then?
On Wednesday 28th October, a large audience at the Hebden Bridge Local History Society heard a talk from Keith Stansfield and Barbara Atack entitled "What's In A Name?", an insight into local dialects and surnames of the Calder Valley, and the sometimes unexpected historical links between both.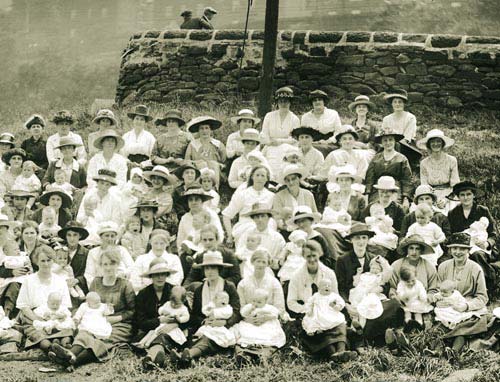 Barbara Atack spoke about how, around the 14th century, the surfeit of common Christian names (John, William) in a growing population created the need for surnames, and how in many cases these were derived from either occupation, parentage (e.g. Jim o'Bobs meaning 'son of Robert') a nickname ('Longbottom') or a place name such as Stansfield or Wadsworth.
In the Upper Calder Valley, surnames based on habitat were commonly used thanks to dispersed settlements across the region. But the growing number of names for any given location means that historical records often become confusing or misleading. For instance, Heptonstall Parish Records from 1594 to 1812 show 3,785 entries for Greenwood and 2,946 for Sutcliffe. This does not necessarily imply any blood relation, causing quite a headache for family historians!
Stansfield is a name with 833 mentions in the aforementioned records, and Keith Stansfield's family connections in the area can be traced back many centuries. Mr Stansfield entertained his listeners with an account of lost phrases and idioms ("You've been laiken in't wattergate again" – you've been playing in the river) and reminding them of that everyday greeting of yesteryear, "Nah then, then?" –  to which the respondent would, of course, reply "Nah then…"
In fact accents were often so particular to small regions in the Calder Valley that speakers from one homestead would be unintelligible to those from another. Mr Stansfield spoke of an ancestor, Joe a'Jim o'Bobs, who attended Colden School upon its opening in 1878. In the same year the headmaster wrote in the school log that the pupil's poor spelling was most likely due to local pronunciation; perhaps accounting for why in official documents Earlees, Jim O'Bob's home, was written as 'Yerlees'. Showing, for instance, how a family name based on the long-vanished hamlet of Etough might become a surname such as 'Atack'.
The next meeting of the HBHLS is on 11th November, when Stephen Jagger will conclude his history of Calrec audio company – based in Nutclough, Hebden Bridge – where he was managing director from 1989 until 2009.