eBikes on the Hill Tops
Tuesday, 15 December 2015
Have you ever wished you could get on a bicycle and zip up the Pennine hills as easily as whizzing down them?  If you live in a community or run guest accommodation above the upper Calder Valley, you should find out about 'we:cycle', a new scheme to introduce electric bikes to the tops.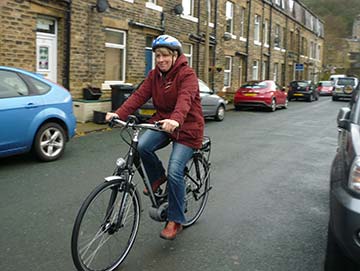 The Alternative Technology Centre (ATC) has been working with cyclists for years, offering reconditioned bikes for sale and hire through the 'cycle:recycle' project.  For many people living in hilltop communities, though, the car provides the only flexible way to travel to and from the valley bottom. 
Now, with a grant from the Department for Transport and support from Calderdale Council and the Upper Calder Valley Renaissance, the ATC is buying a dozen Raleigh Motus electric pedal-assisted cycles, or 'e-bikes', for hire in communities and tourist accommodation.
The scheme will have two elements - for the locals and for visitors to Calderdale.
we:cycle for Locals will be run along the lines of the Hebden Bridge-based 'Hour Car' scheme.  Two or three hilltop communities will act as 'hubs', to be overseen by local volunteers.  The new e-bikes will be available to local residents, who join we:cycle under subscription, paying a small additional fee to hire the e-bikes.  Hiring will be done online and users will be invoiced at the end of the month for any usage. There will also be a 'Hire-to-Buy' opportunity for locals, enabling a small number of people to hire an e-bike over an extended trial period of a few weeks, with an option to buy the e-bike at a reduced price.
we:cycle for Visitors will lease e-bikes to a handful of accommodation providers in the upper Calder Valley over the high season.  They will take responsibility for keeping the e-bikes secure, cleaning and charging them up.  In turn, they will retain hire payments from visitors to their businesses.
we:cycle will be phased in from December through to Easter 2016.
Paul Forrest, the we:cycle project manager said: "We are keen to hear from anyone interested in either of these schemes – whether you would like to discuss a community 'hub' in your village or you run an accommodation business which could benefit from offering your guests something a bit different."
Please feel free to contact Paul -07852 256196 or email