Boxing Day Floods: the aftermath
Updated Wednesday, 6 January 2016
Support for flood-hit businesses - A grant of up to £2,500 per business is available to help them open up and start trading again.
The real story of the Calder Valley floods: restored communities and faith in humanity - Eight days on from the devastating Boxing Day floods that swamped Calder Valley, the real story is that people came together and have been magnificently supported by a wide range of groups from all backgrounds, some of whom have travelled long distances to help. 3 Jan
Flood disruptions latest: FAQs on what schools are opening; road closures; volunteering, donating, insurance and more. 3 Jan
Hebden Bridge Bounces Back: List of shops back open as of Saturday morning. 2 Jan
Town Hall flood services Hebden Bridge Town Hall flood services are being driven by Hebden Bridge Community Association, Calderdale Council, the Environment Agency and the goodwill of local and far flung volunteers. Read more 2 Jan
Hygiene
Volunteers are being asked to roll up sleeves and wash hands and arms thoroughly and frequently to avoid risk of infection.
Funding for flood hit residents and businesses - added 31 Dec
Calderdale Council has now received news of funding from government to help support residents and businesses affected by flooding.
The Council has immediately agreed to make a £500 hardship payment to householders who have been severely affected by the floods. This is in addition to the Council tax and Business rate relief already announced. The Council will contact households who can qualify for the payment and will try and use the Council tax system in the first instance to pay this, with payments hopefully implemented early next week.
There will also be funding available to help both householders and businesses with immediate repairs. The Council is currently working on how this scheme will work and will be developing details over the next week. The Council is also looking at wider support that businesses might need and any affected businesses are encouraged to contact our business team on 01422 392222 or business@calderdale.gov.uk so that we understand all possible issues.
Help for The Bookcase - article in The Bookseller
Publishers including Phaidon, Galley Beggar Press, HarperCollins and And Other Stories have pledged to help West Yorkshire indie Book Case Hebden, which has lost almost all its stock to flood damage. The Hebden Bridge bookshop, owned by Kate Claughan, has been flooded for the second time in three years in the latest wave of catastrophic flooding hitting the north of England. The shop had to have a complete refit after being first flooded in 2012. Read more
Huffington Post: Photos and report of cleanup. "It takes more than water to break us."
Read the message of sympathy from the Mayor of Warstein, Hebden Bridge's twin town.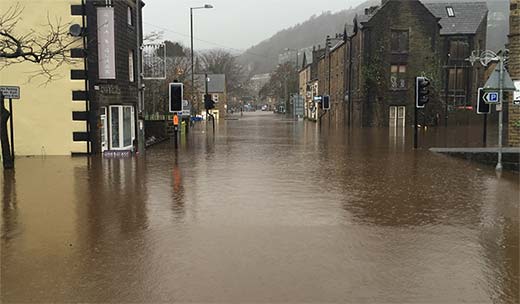 George Monbiot in The Guardian - This flood was not only foretold – it was publicly subsidised. "Eighteen months ago I visited the town, where activists told me that thanks to the damage inflicted on the bogs and deep vegetation of the moors, which reduces their capacity to hold water, it was only a matter of time before Hebden Bridge was wrecked again by flash floods. Their warnings were not just ignored, but - if such a thing is possible – actively disregarded." Tuesday, 29 December 2015
Government help needed for businesses to recover: Upper Calder Valley Renaissance Chair Stephen Curry told the HebWeb, "No one would argue that helping people in flooded homes should not be a priority but saving livelihoods and rebuilding the economy to keep people's jobs and businesses is not mutually exclusive. The damage to businesses along the Upper Calder Valley is so serious that, a general morale fund raising initiative will not be enough this time to save some of our most financially vulnerable businesses from ruin. It is fantastic that thousands of pounds are being raised by Community Foundation for Calderdale but most people don't realise that those funds can't be designated to business flood relief. They are for domestic home flood victims. We need major government help for this recovery and we will be making the case collectively this time." Read more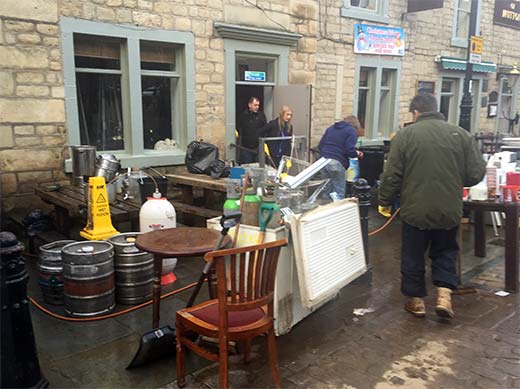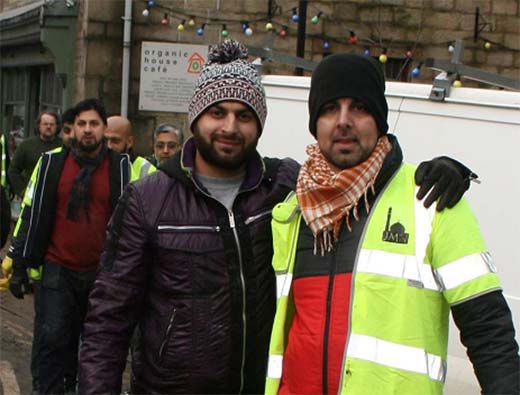 Aamir Mahmood wrote that "The lovely people of Mylthmroyd and Hebden Bridge were very welcoming. They have been working tirelessly days and nights to restore their homes following the flood damage. We can not take the pain and suffering away, but we can certainly stand by you and do our bits to get you through it. This beautiful community will be back to its normal very soon."
Hebden Bridge Town Hall, 28 December 2015, turned into an emergency hub, co-ordinating help after the flooding. Video from Ralph Nimmann