The Calderdale Way to get a make-over
Sunday, 3 January 2016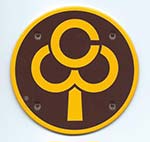 Preparing for its 40th anniversary of The Calderdale Way next year, a plan is in place to make sure it is in a condition to welcome a new generation of walkers.
Peter Manning from the Calderdale Way Association who was involved in the original design of the route explained "The Calderdale was the first local long Distance recreational path in the country. What also makes the Calderdale Way unique among long distance paths is that hikers can walk it all in one go whereas less energetic walkers can use the link paths to create a number of short circular walks".
From the New Year CROWS (Community Rights of Way Services) working in partnership with Calderdale Countryside Service is re-waymarking the whole route to make sure it is always clear where you should go. This has been made possible by funds from the Calderdale Way Association, who publish the guide book, Friends of Calderdale Countryside and Cannonball Events who run the annual Calderdale Way Ultra.
At the same time as waymarking, volunteers will be preparing a schedule of repairs that are necessary to bring the route up to scratch.
Richard Peters, secretary of CROWS, talking about the long term plan said "The Calderdale Way is a fantastic walk but parts have fallen into disrepair. We are very thankful to our funders and are delighted to be working on this project with Countryside Service".
"By the end of March the full cost of the necessary repairs will be known. We hope to raise some money through our supporters and local sponsors, but we would expect Calderdale Council Highways Department who have overall responsibility for footpaths in Calderdale to make a major contribution. By the autumn we will be itching to get to work with the work, but our aim is to have it all completed by the end of 2017"