Wednesday, 3 February 2016
Announcing the 9th Annual Hebden Bridge Handmade Parade!
On 26 June 2016, Handmade Parade will once again bring celebration and spectacle to the streets of Hebden Bridge.
The 9th annual Hebden Bridge Handmade Parade will be on Sunday 26 June, on the opening weekend of the Hebden Bridge Arts Festival. Parade will be at noon with a mini-festival in Calder Holmes Park from 1-4pm.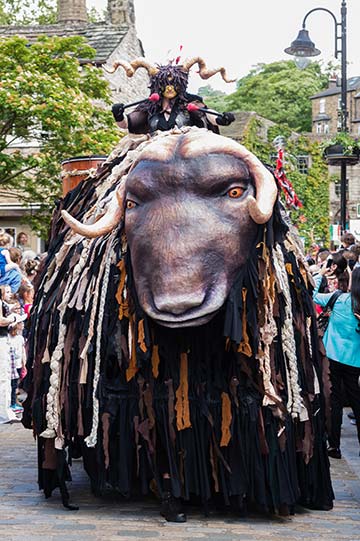 Open costume workshops will run from 4-23 June. Tchedule for workshops in samba drumming, stilt walking and women's dance will be announced on their website soon.
The Hebden Bridge Handmade Parade brings thousands of visitors to the town to see the giant puppets made by local professional artists and the colourful costumes made by increasingly creative and enthusiastic participants who come to the open parade workshops in the month before the parade.
Handmade Parade artistic director Andrew Kim explains: "Since the Boxing Day flood, it's been a tough time for this valley. But the silver lining is we have seen the strength, generosity and creativity of our community rise to the surface. Our parade is a way to show the joy--to take to the streets and celebrate our unique and vibrant community."
The organisers would like to invite anyone who would like to contribute ideas to this year's parade design to a "Spark Day" on Saturday 27, February from 1 to 2:30pm at the parade workshop: Unit 5 Victoria Works, Victoria Road, Hebden Bridge HX7 8LN.
"We are so happy to be able to get people involved in ideas for this year's parade and to be able to look forward to being part of a great summer of events in the valley. We have further exciting announcements to make in the next few weeks so watch this space!" adds new Executive Director Kathleen McGrath.
This year's Hebden Bridge Handmade Parade is supported by Arts Council England, Hebden Royd Town Council and Yorkshire Festival and is working in partnership with the Hebden Bridge Arts Festival and Calderdale Council.
For more information about this year's parade please go to: Handmade Parade website