Co-operative pioneer, Joseph Greenwood, sees the light of day again
Sunday, 21 February 2016
The gravestone of a leading Victorian co-operator, which for many years been lying face-down in thick undergrowth, has now been restored.
Joseph Greenwood, the leader of the celebrated Hebden Bridge Fustian Manufacturing Co-operative in Hebden Bridge and a member of the Co-operative Union's Central Board for over thirty years, died in 1924 and is buried in Hebden Bridge's Sandy Gate cemetery.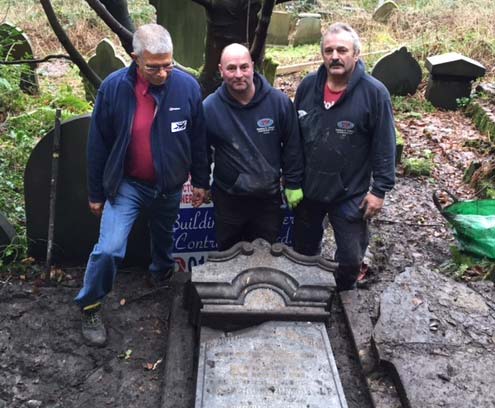 Local co-operative supporters have long hoped to see the gravestone turned. This was achieved last week, thanks to the work of CROWS (Community Rights of Way Service) and TF Builders.
There was some slight damage from the time when the gravestone first fell over, but in general the stone is in good condition, with the original gilt-work still as bright as ever," says Richard Peters of CROWS.
John Taylor from TF builders said, "This was a tricky operation, not least because Joseph Greenwood's granite gravestone was very heavy, but we were pleased to provide CROWS with our expertise to complete the project."
Joseph Greenwood's grave is included on an e-Trail of radical and co-operative history in Hebden Bridge, available for downloading as a mobile phone app from Pennine Heritage. The trail is also available in booklet form from Visitor Centres.