Piano Festival Programme launch
Sunday, 28 February 2016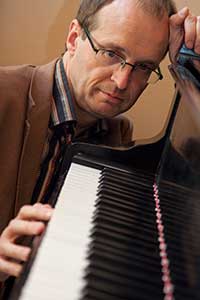 Now a regular fixture in the town's social calendar, the 2016 Hebden Bridge Piano Festival programme launch party takes place at the Town Hall on Saturday 5th March. There's live music music provided by pianist Derek Elton and singer Joadey Ace for this free event which is open to anyone and starts at 6.30pm. It's also the earliest opportunity to buy tickets and passes for the festival weekend which opens on April 22nd.
This year's festival programme has a truly international feel with pianists from China, Russia, Poland, India and Greece in the stellar line-up alongside those from the UK. Headline artists include the 2015 Leeds International Piano Competition winner Anna Tsybuleva, internationally acclaimed Sheffield-based pianist Benjamin Frith and the amazing jazz pianist Jason Rebello.
Other stars of the festival include legendary artist Alicja Fiderkiewicz who is giving an all-Polish recital, pianist, raconteur and star of last year's Edinburgh Fringe Will Pickvance, Dudley International Piano Competition 2014 winner Mishka Rushdie Momen, the highly talented Athens-based pianist Sofia Matsagou making her UK debut at the festival and the prodigiously talented 19 year old virtuoso Yuanfan Yang who will be performing his own compositions as part of a highly impressive programme.
As well as all this, the festival programme also includes inexpensive concerts for children and families, free events featuring non-classical piano music and recitals by young students of Chetham's Music School in Manchester – one of whom is only 8 years old!
"Our programme launch is always packed out and great fun", said Festival Director Dave Nelson. "As well as the live music there'll be a bar and party food, making it a fun way for everyone to see the wonderful programme we've to put together and to secure those tickets for what will undoubtedly be a sell-out weekend."
Tickets go on sale online at 7pm on March 5th, and the Festival box office opens at the Town Hall reception desk on Monday March 7th.
Alternatively, postal bookings can be made via the booking form tucked inside the programme, and also available from the Festival website. For in-person booking, the Town Hall box office will be open Monday to Friday between 10 and 4.30 right up to the Festival weekend.
There is a quick link for on-line booking and much more information about the recitals and performers at www.hebdenbridgepianofestival.com.