Mytholmroyd Arts Festival presents premiere of short film 'Calder'
Wednesday, 30 March 2016
When Mytholmroyd Arts Festival commissioned a short film about the village in 2015, little did they or filmmakers Geoff Brokate and Paula Sutherland know that their plans would be overtaken by the dramatic events of Boxing Day.

Unearthing surprising stories of a community coming together in adversity, 'Calder' documents the transformative impact of the flood and the personal challenges faced by individuals attempting to make positive changes in its aftermath.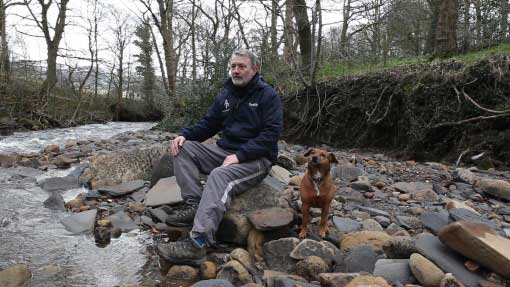 Paula Sutherland says, "We spent months gathering stories about the people and history of Mytholmroyd, but it was the receding flood waters that truly revealed the remarkable character of this community. We were astonished by the strength of connection that moved people to set aside their own troubles and extend help and support to others."
The premiere of 'Calder' will take place at 7.30pm on Thursday 14th April at The Dusty Miller in Mytholmroyd.
This first screening will be followed by poetry from Winston Plowes and a panel discussion with representatives from the Festival, the filmmakers and local residents who appear in the film. Entry to this special event is free, with donations to the Calderdale Flood Relief Appeal and Mytholmroyd Arts Festival.

The event marks a poignant start to 2016 for Mytholmroyd Arts Festival, now in its second year and looking ahead to the main Festival weekend in October. Artistic Director Annie Harrison says, "It is important to us to present the film premiere here in the heart of the Mytholmroyd which witnessed such devastation only a few months ago. 'Calder' draws out the personal stories that reflect the generosity, resilience and resourcefulness that underpin our community."

Further information about 'Calder' and other upcoming events will be posted on the Festival website and on the Festival's Facebook page. Volunteers are always welcome and can contact the Festival team via email.