Girls' Self Defence and Confidence Workshop
Wednesday, 30 March 2016
Wednesday 6 April, 11.30am – 4.30pm
Practical not pretty
This hands-on workshop aimed at girls aged 11-16 years focuses on day-to-day personal safety issues they may experience at school, on the street and on public transport.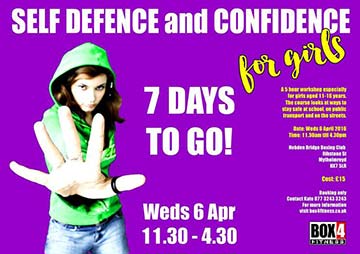 Workshop leader Kate Dakers says, "We teach simple, instinctive techniques that girls can use to prevent a situation from escalating - we learn how to remember the techniques and we practise them on strike shields and focus pads. The most important aspect of self defence is to present yourself as an undesitrable target and to avoid conflict. The key is being aware of your surroundings and switched on to your environment – assessing situations and averting danger.
"The workshop culminates in a series of staged realistic encounters where you will be attacked and use your learned skills to effectively defend yourself. Whilst it may sound a little scary - girls find it fun, empowering and feel confident that they can defend themselves."
I Pledge To…
This year we're including the 'I pledge' campaign in celebration of International Women's Day. We'll be asking the girls to make a pledge based around topics that including helping other girls and women achieve their ambitions, challenging gender bias language and behaviour and, supporting girls in sport.
Benefits
The benefits of self defence training are many including:
Preparing girls both mentally and physically for a risky or dangerous situation
Increasing self confidence
Enhancing personal safety
Increasing social interaction with like-minded girls
Kate concludes, "It's an opportunity for girls to come along and try something different and provides a great 'taster' session for those interested in joining our girl's Kick-boxercise classes on Wednesday afternoons."
What girls who've been before had to say:
Jasmine, 11 years: "It was really educational and good for girls who wouldn't know what to do in that situation. It's also really good for people who aren't very confident."
Mia, 12 years: I learned how to protect myself, and increased my understanding of self defence. It's a great way of meeting new people, I would recommend it to anyone wanting to increase their confidence."
Lucy-Anne, 16 years: "Being the biggest girl there myself generally I was chosen to take on the role of the 'attacker' along with Kate the instructor and it meant the younger girls felt a lot more comfortable and able to build up their confidence and techniques on us. I learnt a lot about forms of protection and how they applied it to real life situations and what to look out for whatever age you are. It was also fun to meet some new people, especially people younger than me who I might not interact with otherwise and learn some new stuff."
How to book
The cost of the workshop is £15 and can be booked by emailing Workshop Leader Kate Dakers at kate@box4fitness.co.uk
M: 07732 433243
Hebden Bridge Boxing Club, Ribstone Street,
Mytholmroyd. HX7 5LR