The Economic Impact of the Boxing Day Floods
Sunday, 3 April 2016
An economic impact report on flooding in Calderdale is due for publication this week.
The report follows a borough wide survey and research carried out jointly by the Centre for Climate Change Economics and Policy at Leeds University, Calderdale Council Business team and the Upper Calder Valley Renaissance business flood recovery team.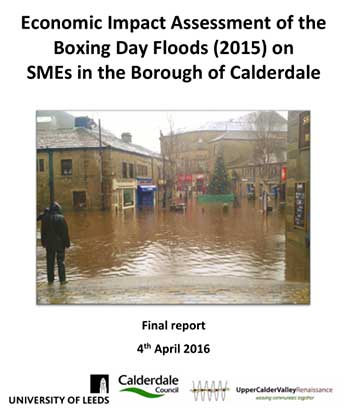 The report will highlight the economic impact on the borough's businesses both directly and indirectly. It focuses mainly on the effect that Boxing Day's deluge has had on small to medium sized businesses (SMEs). With over 95% of businesses in Calderdale fitting that category and the vast majority of trade being internal to the borough, the report's findings will indicate the potential long-term impact that the flooding could continue to have on the whole local economy.
Upper Calder Valley Renaissance Chair Stephen Curry said, "Following the 2012 floods the community rallied around in the valley to offer practical help for the visible businesses, but we know that many SMEs still took up to 18 months to recover financially and little was offered to support them over that period. This time within days of the flooding we brought the business networks from Todmorden, Mytholmroyd and Hebden Bridge together and formed a business flood recovery team. The team undertook a short survey immediately after Boxing Day and it clearly indicated the need for a more in-depth study to look at the long-term impact on businesses and the local economy."
The report compares the economic impact of the 2012 flooding with the 2015 impact, and Stephen says, "I think it projects a much longer recovery period for the Valley this time, unless a programme of regeneration is implemented".
The findings include the statistics that Hebden Bridge is the worst hit township in terms of numbers of businesses affected (c30% of the total for Calderdale), and Mytholmroyd is worst affected in terms average economic losses.
The report will be presented to the Calderdale Flood Commission on Monday 4th April and will be available on the UCVR website from Tuesday 5th.