Evidence: exhibition at Artsmill by Roo Waterhouse
Sunday, 10 April 2016
The exhibition runs from Wednesday 20th April until Sunday 8th May
The gallery open 11am to 4pm, Wednesday to Sunday (closed Monday and Tuesday, but open for Bank Holiday Monday 2nd May)
The body of 'Evidence' we see displayed in front of us in Roo Waterhouse's latest solo exhibition at the David Wright Gallery, Artsmill, Hebden Bridge, is made up of the clutter of everyday domestic life: large scale oil paintings of accumulated possessions; 'Shelf Portraits' of books lined up on shelves; small mono-print scenes of kitchen clutter.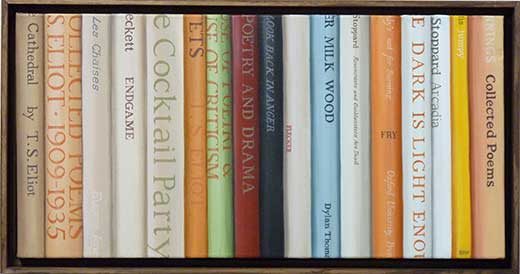 Evidence is collected as a way of linking one thing to another: it accumulates, gathers weight and becomes a solid proof of this or that. In the intimacy of our personal lives we seek out the solidity and reassurance of accumulated evidence; the comfort of familiar things.
Objects become part of the story we tell about ourselves, and our homes end up littered with tiny monuments to a vast network of relationships.
Roo's oil paintings present a quiet meditation on these everyday objects. With familiarity and reverence she captures the reality of individual possessions and the associations they hold within. These thoughtful documents are a far cry from representations of consumer culture or displays of goods.
Captured in-use, carrying the marks of time and care, the human element is made present in the disarray or the organisation of things. Roo's artwork communicates and connects with the viewer on an emotional level, her images of familiar artefacts conjuring up memories of our own possessions and intimate spaces, past and present.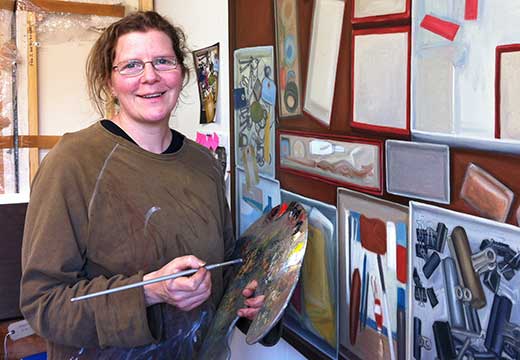 Roo Waterhouse is an artist based in Hebden Bridge, West Yorkshire. Since graduating in 2010 she has established herself as a figurative painter with a fascination for commonplace narrative. She has exhibited widely across the North of England and London in solo and group exhibitions, her work is currently represented at Orso Major Gallery, London. She was a finalist in the Artist and Illustrator Artist of the Year 2013 show at the Mall Galleries, London. Her work is collected and commissioned around the country.
Evidence an exhibition of artwork by Roo Waterhouse is on at:
David Wright Gallery, Artsmill, Hebden Bridge, West Yorkshire HX7 7DP
The exhibition runs from Wednesday 20th April until Sunday 8th May
The gallery open 11am to 4pm, Wednesday to Sunday (closed Monday and Tuesday)
For further information please see www.artsmill.org   01422 647072