The Albert Pub Facade retained
Tuesday, 10 May 2016
The planning application to change the facade of the Albert pub has been refused today on the grounds of impact on the visual appearance and character of the building and the Conservation Area (contrary to RCUDP policies BE1 and BE18) and impact on neighbouring residents due to noise emanating from the new doors (contrary to policy EP8).
Preserve The Albert Pub Facade
Thursday, 14 April 2016
A campaign has begun in Hebden Bridge to conserve the Victorian frontage of one of its last few traditional pubs.
Hebden Royd Town Council last night resolved to recommend rejection of the plan to convert one of the two front windows of the pub into a decorative sliding door.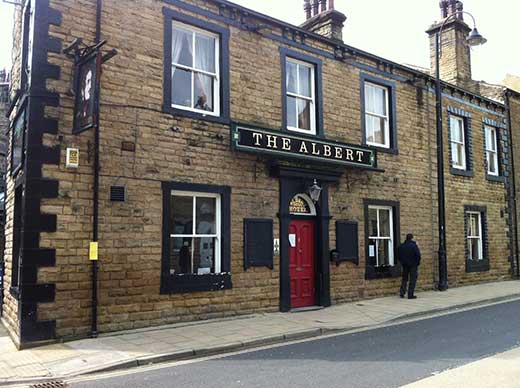 Albert Street is in the conservation zone as has retained most of its Victorian features. The pub facade (see above) is a classic of its kind, symmetrical, pleasing to the eye. It was felt that the new landlady could refurbish the inside which she is doing in the wake of the floods in ways which do not require this assault on a historic facade.
The town is waiting patiently for its four traditional pubs: the Swan, the Shoulder, the Railway and the Albert to reopen and welcomes all the hard work being put in to bring them back to life. But campaigners say they want them brought back to life in ways which preserve their character.
Those who wish to object may do so on the Calderdale website, planning section. Enter 16/00236/FUL into the search box.
Here is an extract from the planning application: "To the front of the property our client wishes to remove one of the front windows and open a section of the existing front wall to form new bi folding doors creating an alfresco style seating style to the area. In front of the doors a decorative wrought iron railing will be inserted to prevent customers accessing the building at this point". Campaigners argue that this would be a useless door serving no purpose except to expose customers to the east wind!