Hebden Bridge Community Association seeks new Chair
Monday, 18 April 2016
Hebden Bridge Community Association (HBCA) is looking for a new Chair. HBCA is the charity that owns and manages The Town Hall, Hebden Bridge, one of the first community-owned town halls in the country.  
 
The new Chair will work in close partnership with Graham Mynott, the Town Hall's new Executive Director, who lives in Hebden Bridge and joins the organisation from housing charity Key House.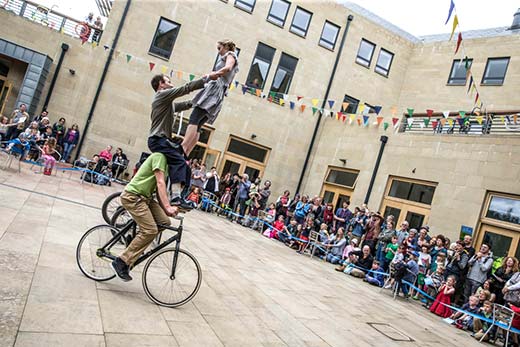 The Town Hall hosts and supports a diverse range of community activity with over 100 groups using the building. It is also home to over 30 small business tenants and a thriving community cafe. More than just a building, the Town Hall is a creative connector - making links, creating new partnerships and opening up exciting possibilities. Recently this has been demonstrated through its role as a lead partner for the Staying Well project to reduce social isolation, and in its role as a community hub in the recent devastating floods.
 
The current Chair Rachel Rickards is stepping down after over five years on the board, as she's moving away from the area. Rachel Rickards said, "We're looking for someone with a genuine passion for our community, town and Town Hall. They'll have an appetite for collaboration and a strong track record professionally.
 
"The staff, volunteers and board are a proactive, positive team who are a pleasure to work with. Everyone involved believes community is right at the heart of who we are and what we do.
 
"This role is an opportunity for the right person to develop their skills and networks and make a real difference in our community."
 
Graham Mynott added, "I'm really pleased to be joining The Town Hall as Executive Director. It's an exciting time for the organisation and I look forward to building on strong foundations and leading the next phase of our future in partnership with our new Chair."
 
The Chair of the Hebden Bridge Community Association Trustee Board is a voluntary role. All trustee roles are unpaid.
 
More information about the role and how to apply are available here
 
For an informal conversation about the role contact Rachel or Graham Mynott.
 
The closing date for applications is Tuesday 10 May 2016.