After the floods: Rotary Clubs offer support to community groups
Tuesday, 19 April 2016
Following the terrible floods over Boxing Day, there has been a tremendous amount of support extended by Rotary clubs across the country, for both our local area and affected areas in Leeds and York. In response to this support, the Rotary club of Hebden Bridge is working with local Rotary clubs throughout the Calder Valley as a sub-group for a coordinated response across the Yorkshire region.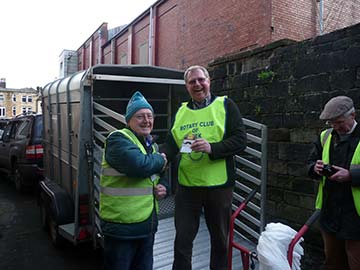 They need your help! Are you a member of, or do you know of a local community group that suffered losses in the floods and needs financial support?
If so then, please contact the Hebden Bridge Rotary Club as soon as possible.
You will need to provide brief details of your organisation, how you were affected by the floods and the level of support you need. This would then be assessed and followed up with a formal application if appropriate.
We are looking at 'Community Groups' in the Hebden Bridge and Mytholmroyd area; for example, scouts, youth clubs, sports and leisure clubs, drama groups etc. If you think the organisation you are associated with needs help, then get in touch. We cannot guarantee all applications will be successful, but is worth a try!