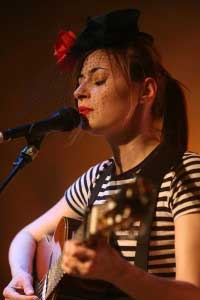 Wainsgate Chapel Concerts: Zoe Kyoti
Tuesday, 10 May 2016
Wainsgate Chapel: Zoe Kyoti
Sunday 15 May 3pm
£10/£8 and £3 for under 18s
The next concert at Wainsgate Chapel is on Sunday May 15th and is in collaboration with Hebden Bridge Folk/Roots Festival which takes place throughout that weekend. It features the superb singing and songwriting talents of Manchester-based singer Zoe Kyoti whose influences stem in part from her Anglo-Austrian-Greek-Armenian heritage.
Within her bittersweet unique brand of Folk, there lies the spice of exotic far-flung places and the roots of jazz, country and blues. She is well known for her work with swing-acoustic trio The Magic Beans and has also made numerous appearances with the sublime California-adopted Mancunian songstress Jesca Hoop - most recently on her album 'Undress'.
For this concert of songs taken from her debut album Wishbone, Zoe Kyoti is joined by three of the most acclaimed and versatile musicians in the North – all of whom are making return visits to Hebden Bridge.
Born to Irish parents and living in Manchester, fiddle player Emma Sweeney is a distinguished and experienced live performer who has played alongside a whole raft of traditional musicians, including Mike McGoldrick, John Doyle and Mick O'Brien. She brought her own band to Wainsgate last year and a captivating mixture of traditional jigs and reels set alongside her own excellent compositions and accomplished arrangements was certainly one of the high points of the concert season.
A leading light in The Cinematic Orchestra, guitarist Stuart McCallum's music blends alternative jazz with folk and world styles, creating a sound that is concentrated and utterly distinctive. He has performed and recorded with some of the most prominent jazz artists of today, including Kenny Wheeler, John Surman, Mike Gibbs, Gwilym Simcock and Tim Garland, appearing twice at the HX7 Jazz Club in Hebden Bridge, firstly with his own trio and subsequently with No Good Beatniks
Bassist, composer, arranger and producer Matt Owens is a long-time collaborator with singer/songwriter Kirsty Almeida, playing double bass and bass guitar in her live band as well as co-writing and arranging much of her music. He has also worked with such luminaries as Aim, Soweto Kinch, Jay Phelps and Bobby Wellins and recently performed in Hebden Bridge with Baked a la Ska for whom he has produced 4 albums.
The concert starts at 3pm and tickets, which are only available at the door, cost £10 and £8 with a special £3 rate for under 18s. There is also a discount for anyone with Sunday or weekend passes for the Folk/Roots Festival.
Up and coming concerts in the Wainsgate series include ex Tanglefoot Canadian folk veterans Ritchie, Parrish, Ritchie on May 22nd and Mancunian folk-roots quintet Project Jam Sandwich on June 19. There's more information about all events and how to get to Wainsgate at www.wainsgate.co.uk.