Wainsgate Chapel Concerts: Steve Ritchie, Al Parrish and Rob Ritchie
Monday, 16 May 2016
Wainsgate Chapel: Steve Ritchie, Al Parrish and Rob Ritchie
Sunday 22 May 3pm
£10/£8 and £3 for under 18s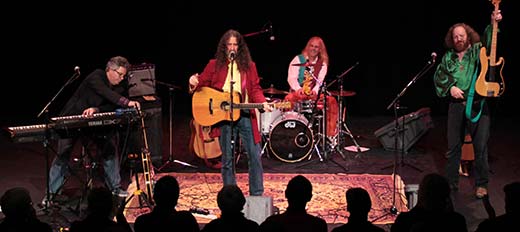 The Wainsgate Chapel 2016 concert series continues this weekend with a much anticipated gig by ex-Tanglefoot members RPR (Ritchie, Parrish, Ritchie) – undoubtedly one of the best folk bands on either side of the Atlantic.
For years, Steve Ritchie, Al Parrish and Rob Ritchie rocked the UK folk music scene as the rhythm section of the Canadian powerhouse band Tanglefoot who amongst many other accolades, won the Best Vocal Group category at the 2007 Canadian Folk Music Awards.
In July 2009 during their final UK tour, Tanglefoot memorably performed at the Hebden Bridge Picture House as part of that year's Hebden Bridge Arts Festival.
Now the three best friends, along with percussionist/ singer/ songwriter Beaker Granger, are back for their second UK tour as RPR with a sound that reflects Tanglefoot's musical legacy but with a much broader canvas. Their songs, storytelling, wit and high-spirited stage presence bubble over with that same combination of high enthusiasm and personality that made Tanglefoot famous the world over.
Their music, a mixture of great original material and well chosen covers, is delivered with passion, vigour and intensity. The songs, full of humour, pathos or love are replete with great stirring harmonies and technical prowess.
"I thought that Tanglefoot were utterly brilliant when they played here seven years ago", said concert organiser Dave Nelson, "and I know that RPR will deliver in exactly the same way, They're the real deal!"
The concert on Sunday May 22nd starts at 3pm and tickets, which are only available at the door, cost £10 and £8 with a special £3 rate for under 18s.
The next Wainsgate concert is on June 19 and features Mancunian folk-roots quintet Project Jam Sandwich. There's more information about all events and how to get to Wainsgate at www.wainsgate.co.uk.