Art Deco clock for Picture House foyer
Tuesday, 17 May 2016
A restored Art Deco clock will take pride of place in the refurbished foyer at Hebden Bridge Picture House.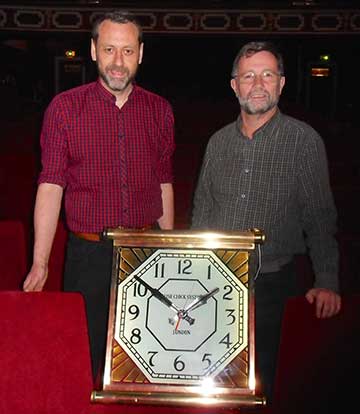 The timepiece, which had been hidden away in a cupboard in the cinema, has been given a new lease of life by clock repairer Jonathan Cope, of Clockwork in Sowerby Bridge.
The clock's elegant brass work has been cleaned of layers of brown paint, sympathetic LED lighting has been fitted round the face and the mechanism has been repaired.
Friends of the Picture House member Mike Troke had the idea to get the clock restored as part of the cinema's refurbishment following the Boxing Day floods.
"At one time the clock hung in the auditorium where it reminded cinema-goers when it was time to get the last bus back to Heptonstall! It was looking very sorry for itself but it's great that, thanks to Jonathan's efforts, it will be on view in the foyer."
The restoration cost £280 with part of the cost being met by the Friends and a donation coming from Julia Turpin, of Ripponden, in memory of her mother, Brenda, who died in 2014 and was a big fan of Hebden Bridge Picture House. "She loved coming to the Picture House. The cinema looks amazing following the refurbishment and she would have been pleased to see it," said Julia.
Paul Knights, chair of the Friends of the Picture House, said: "We are so grateful to Jonathan for the incredible work he has done to restore the clock, and to Julia for donating money for the work in memory of her mother.
"We can't wait to see it hanging in the newly-restored foyer and hope it evokes the history of the cinema as the building moves towards its 100th birthday."