Convoy to Calais - Saturday 18 June 2016
Tuesday, 24 May 2016
On 18 June, the Peoples Assembly has organised a convoy of vehicles to take supplies to refugee camps near Calais and Dunkerque. Donations will be given to L'Auberge des Migrants and Care4Calais. There are some Calder Valley cars and vans joining in this and they are appealing for donations.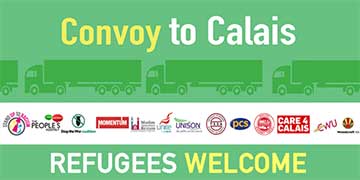 Both charities are running very low on food supplies – ideas for donations are
1kg sugar;
1kg rice;
tinned fish (tuna, sardines, mackerel);
biscuit packets;
tinned goods (tomatoes, chickpeas, kidney beans);
tea and coffee; 750g salt;
dried fruit and nuts;
tinned fruit and veg;
vegetable stock cubes.
Please make sure tins have ring pull tops and that everything is in date!
Clothes are also needed though not for children. Think what you would need to wear living in a tent in a muddy field.
In view of the fact that the local cars are rather small, various kinds of hygiene goods would be very useful as they take up little space. These could be toilet rolls; razors; shaving cream; deodorant; baby wipes; shampoo; conditioner; sanitary towels; moisturiser; tissues.
More information about the convoy can be found here.
Please contact John and Pat Kemp on 07745 910784 or 0771 2047059 to arrange collection. More cars and in particular vans are needed. They should be registered on the website.