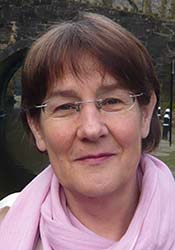 Let locals have their say in flood work, says councillor
Monday, 30 May 2016
The Environment Agency must listen more to the locals when planning its flood defence work in Mytholmroyd, says Councillor Jane Scullion, the Labour councillor whose ward includes the village.
Jane Scullion has welcomed the EA's announcement last week of its action plan for Mytholmroyd. But she adds that the detailed programme for implementation work, due to begin to get under way later in the year, must have proper input from the local community.
"Everyone in Mytholmroyd is desperate for flood defence work to get under way and it's good news that there's money being made available. But this money can be spent well or it can be spent badly. We've got a one-off opportunity to get things right, and that will happen only if the Environment Agency really listens to local people: the technical experts need to understand why local people are advocating dredging so strongly" she says.
She draws attention to the need to avoid unsightly high barrier walls along the edge of the river Calder. "Increasing the height of the barriers in places along the river is clearly vital, but I'm calling on the Environment Agency to use glass panels as much as possible. "No-one wants to feel they're living in or visiting a village of high faceless walls. There's a chance in Mytholmroyd to use really imaginative and creative ways to protect ourselves from floods and protect our visual amenity too."
Jane Scullion also calls for the Environment Agency action plan to be extended to include the riverside housing at Luddendenfoot, another area affected by the Boxing Day flood. She says that she is disappointed at the current lack of any proposals by the Environment Agency to work to minimise flood risk by taking action up on the moors and the hill-tops. "The valley bottoms will ultimately only stay dry if we take steps to prevent flood waters pouring unhindered off the hills. This means taking steps to improve the ability of our peat moorlands to hold water and to increase the number of trees on the tops. I accept that this will take longer to achieve, but the work needs to get started as soon as possible," she says. "During the recent election campaign, I spoke to a number of residents living half-way up the Calder Valley hillsides whose houses were flooded by water coming off the tops."
Councillor Scullion has offered to make sure that ideas and suggestions from local people about flood relief work are passed on to the Environment Agency. She can be reached on: councillor.jscullion@calderdale.gov.uk