Crime writing couple to visit The Book Case
Thursday, 9 June 2016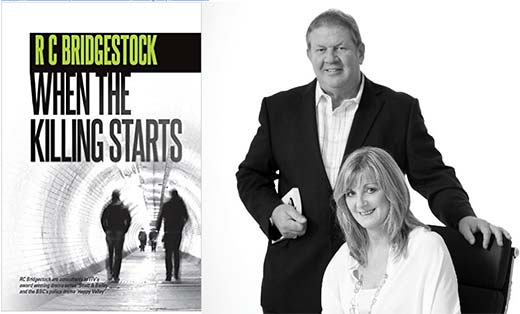 Crime writing duo Carol and Bob Bridgestock, better known as RC Bridgestock will be at The Book Case in Hebden Bridge on Wednesday 22nd June at 1.30 -2.30 pm to sign copies of their latest novel, entitled When The Killing Starts.
Active fund-raisers after the floods
Carol and Bob's names will be familiar to many in Calderdale as they were extremely active in fund-raising for the area after the Boxing Day floods, using their huge following on Twitter to publicise the Flood Fund and also organising a fund raising book auction for Sowerby Cricket Club, which included a signed copy of 50 Shades of Grey!
Happy Valley and Scott and Bailey
Carol and Bob spent nearly 50 years between them working for West Yorkshire police, where Bob worked for the CID on a number of high profile murder investigations. As well as bringing this expertise to their crime novels, they are also story consultants on Happy Valley and Scott and Bailey.
The Book Case lost nearly everything
The Book Case in Hebden Bridge lost nearly everything in the floods, and were one of the business that benefited hugely from the Bridgestock's support.
Kate Claughan, who owns the Book Case said, 'We are so grateful for their support during that terrible time. We are so happy to be able to welcome them to our completely refurbished shop and to be able to thank them for everything they have done."