Wainsgate Chapel Concerts: Project Jam Sandwich
Saturday, 11 June 2016
There's a welcome return to Hebden Bridge this Sunday for Project Jam Sandwich who perform at Wainsgate Chapel in the latest of the 2016 concert series, having delivered a sensational set at the Great Folk Roots Party there during the 2015 Hebden Bridge Arts Festival.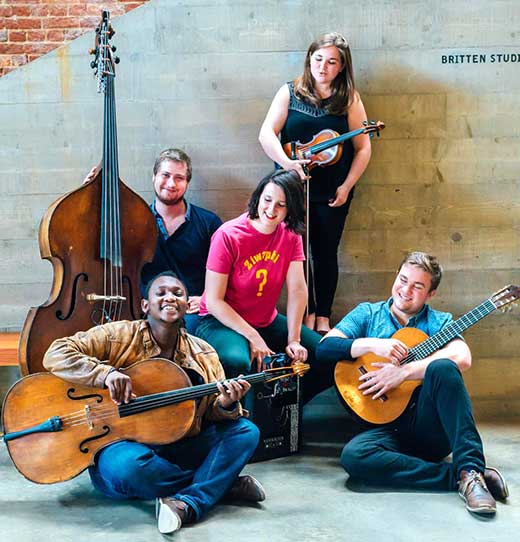 Project Jam Sandwich are an extremely talented group of young instrumentalists offering a fresh and unique take on traditional folk music from around the world. Exciting, vibrant and bursting with ideas and musical excellence, their music ranges from Eastern European and South African to Celtic reels and English folk. The band, who have been aired on Radio 3, and who have performed at Celtic Connections, concoct their own charismatic arrangements to create a varied, acoustic show of exhilarating improvisation, scorching rhythms and beautiful melody.
The band comprises Katie Foster on violin and 'cellist Abel Selaocoe alongside multi-percussionist Delia Stevens, double bassist Ali McMath and Henry Alexander on guitar. They all met as students at Manchester's Royal Northern College of Music and their performances shine with all the musicality, virtuosity and technical prowess one might expect.
Project Jam Sandwich offer an invitation to their audiences to sample the unconventional, be that afrobeat, gypsy jazz or traditional Irish tunes. This eclectic approach means there's pretty much something for everyone, whether they're hardcore folkies, world-music fans or simply curious about different kinds of music.
The concert, on Sunday June 19th, starts at 3pm and tickets, which are only available at the door, cost £10 and £8 with a special £3 rate for under 18s. The remaining Wainsgate concerts will take place in September and October. There's more information about all events and how to get to Wainsgate at www.wainsgate.co.uk.