Christmas in June
Thursday, 16 June 2016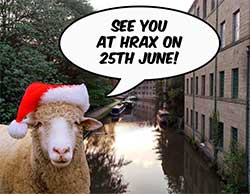 This year Christmas is coming early to Hebden Bridge and Mytholmroyd on the 25th June.
The Boxing Day floods washed away the festivities for thousands so, as the residents felt they deserved a party, wanted to show the area was back open for business and wanted to show thanks to the hundreds of volunteers who mucked in to help in the aftermath, the parish of Hebden Royd is having an alternative Christmas Day six months later.
One of the organisers, Kerry Wheelwright from Hebden Bridge Community Association said, "As the Calder Valley was so badly devastated, with nearly a thousand businesses flooded, hundreds of homes inundated and hundreds of families displaced, we all needed something to look forward to and this has proved just the job."
With a little help from Santa, dozens of organisations have pulled together to reschedule Christmas day to 25th June. A huge Christmas dinner will be served up for over 400 volunteers invited back to the area and festive events will run across the two towns featuring three huge potted Christmas trees, a street party, brass bands, choirs, a funfair, street theatre, activities for young people, live music, DJs, a pipe band, a ukulele band, barbeques, a Christmas market and much more.
Mytholmroyd Gala
"This year's Mytholmroyd Gala is shaping up to be one of our greatest," said chairman, George Sumner, "It's wonderful to have the two towns working so closely together, but the real winners will be the visitors as we put on the best Christmas Day ever."
David Fletcher, resident and owner of the iconic Innovation Mill building in Hebden Bridge said, 'We live in a cracking valley and the support people gave us was wonderful, so we'd really like everyone to come back and celebrate with us.'
The local businesses are also getting in on the act with Christmas sales and festive hampers that can be won, as well as mince pies and mulled wine aplenty.
As Amy Harbour, organiser of the Festival Fandango reward scheme, pointed out, "This area is rightly famous for its unusual and independent shops, and many people come a long way to visit them, so we had hundreds of messages of support when people saw the devastation on TV.
"Our Alternative Christmas is the perfect opportunity to reclaim our place as the number one shopping destination for anyone looking for something you won't find in malls and high streets elsewhere."
As the weather patterns have become more unusual in recent years, who knows, there may even be some snow…
See also:
HebWeb News - Alternative Christmas Day on 25 June - HRAX latest news (Wednesday, 18 May 2016 )
HebWeb News - Alternative Christmas Day update (April 2016)
HebWeb News - After the Floods: Alternative Christmas Day (Feb 2016)
Facebook: Hebden Royd Alternative Christmas