Alfie Kungu's pop-up exhibition for Spirals re-opening
Monday, 11 July 2016
Hotly tipped local artist Alfie Kungu is staging a pop up exhibition of his new work in Spirals who are about to reopen their shop after surviving the Boxing Day floods.
Alfie grew up in Hebden Bridge and went to Calder High School then to Leeds College of Art before going off to Art School in Bristol, and his latest work just been selected for the prestigious New Contemporaries Exhibition, which is part of Liverpool Biennial 2016.
New Contemporaries has been supporting emergent art practice from British Art Schools since 1949, and Alfie was selected by a panel of influential art figures who have previously been a part of the programme.
Alfie Kungu said, "I see my work as a positive, playful reflection of my character. I depict themes of urban multicultural society, whilst maintaining a strong sense of youthful nostalgia by featuring scenes of play."
In 2013, Alfie was a Hebden Bridge Arts Festival Young Producer working with Common Wealth Theatre's Evie Manning, and he used his artistic talents to contribute to the graffiti boards the team put up in Calder Holmes Park.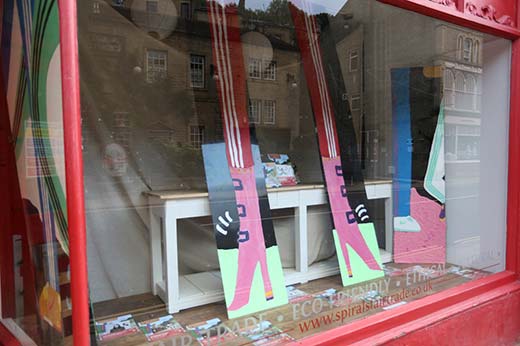 The five pieces in The Legs Show - which are on display in Spiral's main window on Market Street - all look at trousers in our culture, which links to the Arts Festival's 2016 Trouser Town theme, and Alfie was keen to continue his long-standing relationship with his hometown Festival.
Arts Festival Artistic Director Helen Meller said, "We always knew Alfie had real talent so we are not surprised he has been selected for New Contemporaries. He has done exceptionally well to get selected and his work will be shown in Liverpool and London.
"Despite their tough time the team at Spirals have had, they were keen to join in the Festival. It all came together so Alfie now has a chance to show his work on the main street of the town he grew up in and we are so proud to be associated with him."
Bloomberg New Contemporaries will launch from 9 July to 16 October 2016 at Bluecoat, Liverpool, marking a return to the venue after 30 years and forming part of Liverpool Biennial 2016.