Hebden Bridge Vintage Weekend
Thursday, 18 August 2016
After months of planning, the Hebden Bridge Vintage Weekend took place over 6th and 7th August and we were blessed with warm sunshine on Saturday and a dry, warm Sunday, if a little windy!
Preparations had begun on Thursday with clearing the car park area at the old Walkley's Clogs site, marking of the main showground on Calder Holmes park in Hebden Bridge. Friday saw all the equipment installations taking place, ready for the big weekend.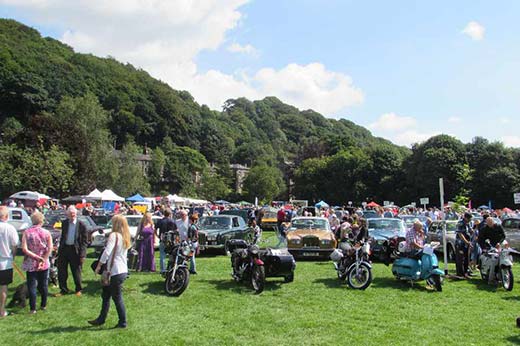 Saturday was the turn of Classic cars, Rolls Royce and Bentleys, Kit Cars, Military and Novelty Vehicles; there were a total 286 vehicles on the showground. The beautiful weather certainly brought in the crowds with record numbers attending the first day of the show.
Sunday morning saw a little early drizzle accompanied by strong winds. Much hilarity as some now ageing Rotarians were seen chasing empty dustbins around the park, until someone came up with the bright idea of holding them down with stones. The weather however was kind to us once again with the day brightening up to welcome entrants and spectators alike.
On show were a remarkable 415 vehicles, Veteran classes, Motorcycles, Commercial, American and Military Vehicles. Also represented were long established motoring clubs including, the Sunbeam Talbot Alpine Register (STAR), the Side Valves and Jowett cars.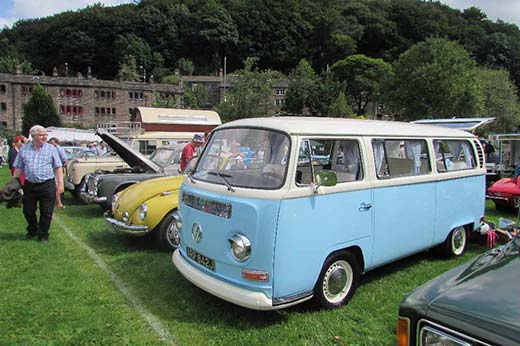 With record crowds on Saturday and our usual very strong Sunday attendance the Rotary club confidently expects last year's record of £25,000 raised for local, national and international charities and good causes, to be superseded by around 15%.
The show also attracted our usual assortment of stalls, commercial ventures such as canine equipment and model cars. Charity stalls were also there including Guide Dogs. This year we also had representation from Pulse radio in Bradford and the prestigious Northern Life magazine. Our usual high quality food and drinks were there to the delight of our spectators, along with fairground rides for the children.
Entertainment was provided over the two days by singer Lucy Barlow and our resident jazz band Doctor Jazz.
We could not put on such an event without the tremendous support from our sponsors, Thomson Reuters, Mud UK, Murts Motor Centre, Creswells Accountants, JA Whitehead, Microsearch Laboratories, Cragg Energy, CN Trading and Hebden Royd Town Council. In addition, local businesses and organisations help us enormously, HEC Electrical, Pennine Signs, MG Caravans, Talbot printing and a special thanks this year to Calderdale Council who have been terrific in their support.
Many thanks also to the Rotarians, their wives and friends who put in so much time and effort to make the event such a success.
The Rotary club has received many endorsements through Facebook and other media, complimenting us on such a fantastic show. We welcome and appreciate all feedback received. There were a small number of dissenting voices, to those we apologise for taking over your park for the weekend, our intention was to bring a prestigious event to the town. This helps local businesses and organisations and also raises substantial monies which go to the many charities and organisations supported by the Rotary Club.