Young Labour Party activist is guest speaker at Trades Club fund-raiser for Morning Star
Monday, 5 September 2016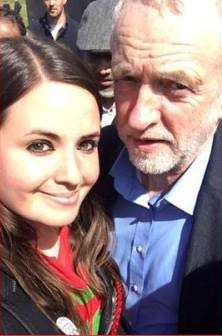 A young Calder Valley Momentum activist will be guest speaker at a Morning Star fund-raiser at the Trades Club in Hebden Bridge on Sunday afternoon.
Beth Paramor, 26, who grew up in Hebden Bridge, is a Town Councillor on Todmorden Town Council, and is involved in the campaign to have Jeremy Corbyn re-elected leader of the Labour Party.
Since Mr Corbyn was elected last year, hundreds of young people have joined the Labour Party in the Calder Valley and are supporting Mr Corbyn through the Momentum movement.
Beth, who works at Robinwood Children's Activity Centre in Todmorden, said, "Since Momentum started it has latched on to the incredible social movement started by Jeremy Corbyn's election, and that intensity of energy is very important.
"I have never been particularly political before but last September when Jeremy was elected, I joined the Labour Party and became a Councillor within six months. Friends who have never shown any interest in politics before have become involved. So many young people have become energised by Jeremy's campaign.
"I've also been involved in Momentum since it started."
Beth was one of the organisers of the recent demonstration in which hundreds of anti-racists ringed Todmorden Town Hall holding hands in a symbolic gesture against racism, following an increase in racist attacks after the Brexit vote.
Sunday's Morning Star fund-raiser at the Trades (September 11) features Beth as guest speaker, and also a line-up of performers: Tim Moon, Creedy and the Colour, Whisky George and Calder Valley Voices choir.
The event includes food, a raffle with prizes from Cuba, and stalls.
It runs from 2pm to 6pm. Entry is £5 and £4 concessions.
The Morning Star is the only national daily newspaper supporting Jeremy Corbyn.
Organisers told the HebWeb, "The so-called liberal or left of centre papers have all turned against Jeremy Corbyn - Guardian, i paper, Daily Mirror. And the rest of the national Press has been appallingly biased in their coverage.
Sunday's gig will raise funds to help keep the Morning Star going, and continue its support for Jeremy and his socialist policies."