Hardeep Singh Kolhi helps Hebden Bridge raise money for Khalsa Aid
Monday, 5 September 2016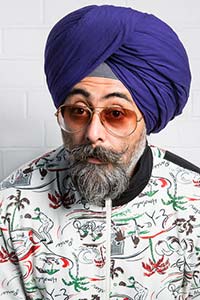 Broadcaster turned comedian Hardeep Singh Kolhi is playing a one off charity gig in Hebden Bridge for Khalsa Aid who provided thousands of free curries in the aftermath of the Boxing Day floods.
When volunteers from the Slough based Sikh charity heard about the desperate plight of thousands of people along the Calder Valley they swung into action preparing the curries they transported up every day as the recovery effort got under way.
Former Town Hall boss Amy Leader helped lead the post flood clean up, so when she saw Scottish comic Hardeep at the Edinburgh Festival, she thought she would chance her arm and ask him if we would play a charity gig in the town.
"I just went up to Hardeep and told him what a huge difference those delicious curries had made to the people who had been flooded and were left with literally nowhere clean to prepare food and also to the exhausted volunteers Khalsa Aid fed too," recalls Amy.
"He was touched by the huge effort his community had put in to help people they had never met before and immediately agreed to play a fundraiser at the Trades Club.
"I was amazed that he was so happy to help us say thanks to everyone at Khalsa Aid who made such a difference as our town struggled to get back on its feet after Boxing Day. It in no way repays how much they gave us, but we wanted to do something that shows that in times of crisis we are all much stronger together."
Hardeep made his name as a reporter on the cutting edge show Reportage which led to an appearance on Question Time and becoming a panelist on The Wright Stuff. The keen cook is a patron of the nationally renowned Leeds Curry Festival and he was a finalist on Celebrity Masterchef.
He was one of five volunteers who slept rough in the Famous, Rich and Homeless series as he tried to survive with no money on the streets of London. More recently, he has turned his hand to comedy taking The Nearly Naked Chef show to the Edinburgh Festival.
Hardeep Singh Kolhi plays Hebden Bridge Trades Club on Sunday 18 September and doors open at 8pm. Tickets are priced £10 with all proceeds going to Khalsa Aid are available from the Trades Club.