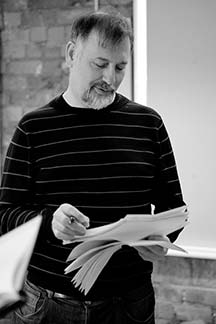 Don't Leave Me Now
Tuesday, 6 September 2016
New End Theatre Beyond presents the first performance in Hebden Bridge by acclaimed Yorkshire playwright Brian Daniels, pictured left.
Monday 12 September 2016 at.6.30 at the Town Hall
The play Don't Leave Me Now by Yorkshire playwright, Brian Daniels and a cast of five professional actors will perform a dramatised 'script in hand' play reading on Monday 12 September at 6.30pm at the Town Hall, St George's Street, Hebden Bridge, HX7 7BY. A post show discussion led by the playwright will follow.
Don't Leave Me Now explores with humour and insight the impact on two very different Yorkshire families, before and after, an early onset dementia diagnosis. Where does love end and duty begin – or does it?
Don't Leave Me Now was inspired by the true stories of Professor Rachael Dixey, now published as 'Our Dementia Diary – Irene, Alzheimer's and Me' by Medina Press. Professor Dixey nursed her partner, Irene, through early onset dementia for ten years. In the same Yorkshire care home where Irene stayed, lived Chris Toulman whose wife Cindy visited him every day and all day for the last seven years of his life. Playwright Brian Daniels weaves the strands of these two stories to create a drama with authenticity and impact.
Don't Leave Me Now is endorsed by all major Dementia Charities, the National Council for Palliative Care, Cruse and Age UK, and has had over 80 dramatized performed readings in UK and Ireland. It has been professionally filmed by the NHS for use in training Health Care professionals about the Mental Capacity Act. A full scale London production is planned for 2017.
Brian Daniels, born in Leeds, is an established playwright and theatre practitioner.
His recent work includes: 'Where's Your Mama Gone' a play based on the experiences of two children whose mother fell victim to a serial killer. A Heritage Lottery Funded exhibition was created around the play looking at heritage loss in looked after children.
'A Big Day for the Goldbergs' a comedy looking at provincial Jewish life and premiered at the Leed Jewish Performing Arts Festival in 2011 with subsequent productions at Leeds Carriageworks Theatre, the New End Theatre, Hampstead, Edinburgh Festival and toured throughout the UK.
'The Good and the True' adapted from the original play produced by Svandovo Divadlo (Prague's leading repertory theatre) and collaborating with Prague City Hall, this play toured the UK and ran in New York – off- Broadway for 8 weeks in the Summer of 2012. It was also performed for the United Nations New York and will play China in 2017.
'Don't Leave Me Now' a play exploring the impact of early onset dementia on two very different families and inspired by two real stories. This play has had more than 80 performances throughout the UK and a full scale London production is planned for 2017.
2016 commissions include 'Homeward Bound' and 'Bounce Back Boy' both commissioned by the National Council for Palliative Care to be performed to engage care and health professionals to look at the complex issues around palliative care.
'Finishing Touches', commissioned by a major London legal firm, explores the impact of childhood sexual and physical abuse/grooming on the later lives of people. This play will be workshopped at the Barbican Theatre, London in August 2016.
Between 1997 and 2011 Brian was Artistic Director of the New End Theatre, Hampstead where he produced more than 200 new plays, musicals and cultural events.