Wainsgate Concert: Alison Rayner's Quartet ARQ
Tuesday, 20 September 2016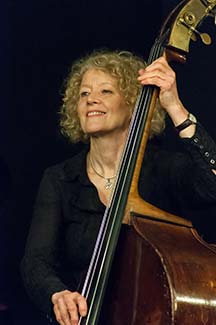 Following the superb concert earlier this month by jazz guitarist Stuart McCallum, accompanied by string quartet, Wainsgate Chapel brings more jazz to its 2016 Summer concert series this weekend in the form of the acclaimed double bass player Alison Rayner's band ARQ.
For the past two years ARQ has built a substantial and wide ranging audience for their "deliciously upbeat, groovy and thoughtful jazz" (Jazz UK), as a result of some intensive national touring throughout that time. Their latest album 'A Magic Life' was released in November 2016 and is bursting with melodic and harmonic references. It follows on from the success of their acclaimed debut album 'August', with its funky grooves and influences of roots and folk music.
Alison Rayner has had a lengthy career as a bass player and composer, touring and recording with Afro-Latin group the Guest Stars in the 80s, and subsequently working with such players as Tal Farlow, Ian Shaw, Jean Toussaint and John Etheridge. Now as a leader of her own group, she ties together many of the strands of her numerous musical influences.
Alison is supported by pianist Steve Lodder who is well known for his work with Andy Shepherd, George Russell and John Harle, Deirdre Cartwright from BBC TV's Rockschool programme on guitar, saxophonist Diane McLoughlin who is also the composer for and leader of the Giant Steppes Jazz Orchestra and Buster Birch from Heads South and the London Jazz Trio on drums.
ARQ's concert is on Saturday 24th September at 3pm. Tickets, which are only available at the door, cost £10 and £8 with a special £3 rate for under 18s.
Other Wainsgate concerts this autumn include singer songwriter Kirk McElhinney accompanied by jazz organist John Ellis on October 8th, then on October 23rd the extraordinary film Sklonište about the 1994 siege of Sarajevo with live music written by Todmorden-based composer Ailís Ní Ríain and performed by virtuoso Dublin accordionist Dermot Dunne. There's more information about all events and how to get to Wainsgate at www.wainsgate.co.uk.