Former Calder Valley author and artist is subject of Manchester exhibition -
Tuesday, 20 September 2016
Jeff Nuttall was a polymath - an accomplished poet, artist, writer, actor, musician and theatre innovator is currently being celebrated in an exhibition at John Rylands Library in Manchester.
During the 1970s and 1980s, Nuttall spent a lot of time in the Calder Valley, lived for a number of years at Todmorden and some of his writing and many of his landscape paintings feature the area. In 1990 Nuttall was given a retrospective exhibition at Dean Clough Galleries in Halifax.
Off Beat: Jeff Nuttall and the International Underground, which opened on 8 September and runs until March 2017, showcases Nuttall's influence on the world's counterculture. He was at the centre of the network of artists and writers that resulted in the 1960s Underground scene.
Driven by social dissent and risk of imminent nuclear attack, Nuttall and his circle pushed the boundaries of decency, art and creative expression as a form of rebellion.
The exhibition has been co-curated by Heptonstall-based writer Jay Jeff Jones and Douglas Field, a senior lecturer in 20th century literature at the University of Manchester - pictured above.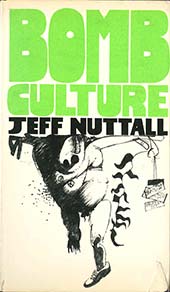 Nuttall was considered by parts of the Establishment to be a dangerous troublemaker. His book Bomb Culture was criticised in Parliament and the Guardian labelled him a 'priest and prophet of permissiveness', alongside people like Bob Dylan, Allen Ginsberg and Fidel Castro. The exhibition features examples of Nuttall's work including the self-published My Own Mag, a first edition of Bomb Culture, and correspondence with other underground writers and original artwork.
Other members of the International Underground whose correspondence or works feature in the exhibition include William S. Burroughs, Michael Horovitz, Alexander Trocchi, Douglas Blazek, Mary Beach, Charles Plymell, Harold Norse, Carl Weissner and Eric Mottram.     
Visitors will be able to flick through virtual versions of My Own Mag, International Times and a rare Nuttall illustrated manuscript, using a digital touch table.
Off Beat: Jeff Nuttal and the International Underground
8 September to 5 March 2017, The John Rylands Library, 150 Deansgate, Manchester M3 3EH
See the website  0161 306 0555 #jrloffbeat
Download the Jeff Nuttall Exhibition leaflet
Guardian obituary by Michael Horovitz - Jan 2004
Due to the adult nature of the content, the exhibition is not recommended for children.