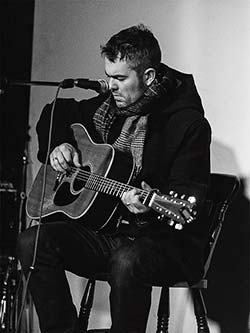 Wainsgate Concert Kirk McElhinney
Monday, 3 October 2016
This Saturday, October 8th sees highly acclaimed singer songwriter Kirk McElhinney performing at Wainsgate Chapel as part of the summer concert series.
Kirk is a passionate singer whose soulful voice and insightful lyrics which together with a rich and vibrant mosaic of acoustic guitar picking give him a sound that is both unique and enticing. His concerts are always something of a one-off, due to his free-spirited jamming style and raw energy which captivates audiences everywhere he performs.
Kirk has appeared alongside such luminaries as folk legend Bert Jansch, Tommy Emmanuel and world music star Nitin Sawhney who described Kirk's folky, jazzy sound as "…a melting pot of sonic bliss".
Joining Kirk McElhinney on stage at Wainsgate is the legendary Mancunian keyboards player John Ellis, who as well as performing in The Cinematic Orchestra and running his 12-piece John Ellis Big Bang, has a long list of credits including working with Lily Allen, Corinne Bailey Rae, Tom Jones, John Squire of The Stone Roses and DJ Vadim, amongst many others.
Saturday's concert starts at 3pm and tickets, which are only available at the door, cost £10 and £8 with a special £3 rate for under 18s. The next concert at Wainsgate takes place on October 23rd when the extraordinary film Sklonište about the 1994 siege of Sarajevo will be shown, accompanied live music written by Todmorden-based composer Ailís Ní Ríain and performed by virtuoso Dublin accordionist Dermot Dunne.
There's more information about all events and how to get to Wainsgate at www.wainsgate.co.uk.