History Society Report: The Brontë family
Speaker: Isobel Stirk
Wednesday, 5 October 2016
Two hundred years after the birth of Charlotte Brontë a fascination with the lives of all three sisters remains as strong as ever. Isobel Stirk, a Brontë expert and enthusiast, opened the season of Hebden Bridge Local History Society lectures with an engaging look at the family's history.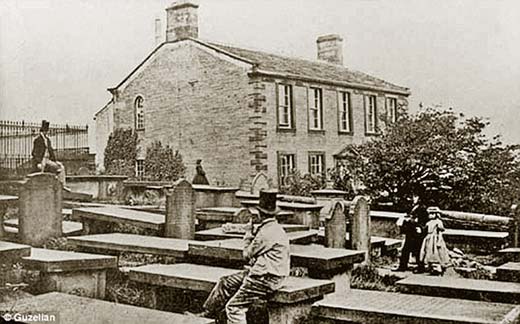 The spark of the genius in Isobel's view can be found in the remarkable Patrick Brontë, who rose from humble beginnings in Ireland to master Greek and Latin and gain entrance to St John's College Cambridge where he succeeded in graduating and gaining ordination. Patrick lived until he was 84, but the story of the Brontës is one shot through with premature deaths.
When he arrived at Haworth parsonage in 1820 to take up his post, he had a wife and six children. Within a year his wife Maria was dead and the children left in the care of Patrick, helped by Maria's sister, Elizabeth Branwell, and faithful servant Tabitha Aykroyd.
Although he is sometimes portrayed as a distant father Patrick actually showed real interest and concern for the well being of his children, especially in their education, teaching them Latin, Greek and French at home and encouraging their creativity.
Isobel showed how the experiences of the Brontë children fed into the fiction they would write. The girls' first experience of school at Cowan Bridge was terminated by the deaths of the two eldest daughters, and Charlotte recreated the harshness of the regime there in the harrowing depiction of the school in Jane Eyre.
Charlotte's rather unhappy work as a governess also featured in that book, as did her sister Anne's in Agnes Grey. Fired by an ambition to start her own school, Charlotte went with Emily to Brussels to improve her French at a school run by M. Heger. It is clear that she fell in love with her host and teacher, and this transformative experience is the basis of her novel Villette, though M. Heger's shadow is probably found in other romantic heroes like Mr Rochester.
Emily was most closely tied to her moorland home; she was deeply homesick when at school and her passion for the landscape is evident in her poetry and especially in Wuthering Heights.
Branwell famously sank into a life of dissipation involving drink and drugs, squandering his talent for both art and writing. His death in 1848 was followed within a matter of months by Emily and then Anne, all taken by consumption.
To counter the desolation of these days, Charlotte turned to work: writing the novel Shirley, going to London where she was lauded by other writers and had her portrait painted, and travelling in Edinburgh and the Lake District, where she became friends with Elizabeth Gaskell, her future biographer. She attained some personal happiness too when she married the devoted Arthur Nicholls, Patrick Brontë's curate, and became pregnant. However, the tragic narrative seemed inescapable and Charlotte too died at the age of almost 39.
The Brontë legend lives on, and is especially potent to an audience in Hebden Bridge who know the same hills. Like the narrator in Wuthering Heights, we can wander among the heath and the harebells and wonder 'how any one could ever imagine unquiet slumbers for the sleepers in that quiet earth.'
The season continues with lectures on the second and fourth Wednesdays of the month, at the Methodist Church, Market St Hebden Bridge, starting at 7.30.
The next talk on 12 October will feature David Glover exploring in a light-hearted way some old funeral customs of our area. Everyone welcome.
For more information, look on our website
With thanks to Sheila Graham for this report