Calder Valley welcomes refugees
Wednesday, 5 October 2016
The Welcome Festival takes place on Saturday 29th October at the Birchcliffe Centre in Hebden Bridge 1.30-4pm. We will bring together refugees from several towns for an afternoon of performance and other activities. Entrance is free and all are welcome.

This event is jointly organised by Calderdale Freedom From Torture, and Together We Grow.
The festival will have some amazing performers:
A famous Syrian singer, Moheddin Aljabi, sings in Arabic, French and English and is a refugee living in the South of England. Listen to him here. His daughter, Enas Aljabi, will also be singing.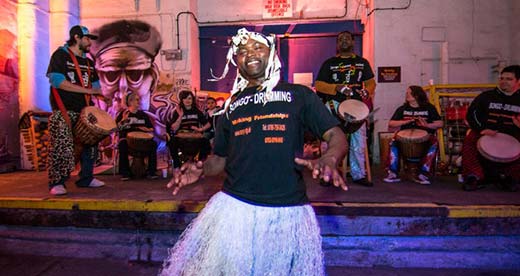 2. The Songo Drummers from Sheffield.
3. The Harmony Choir from Leeds will be singing.
4. Dave Nelson on keyboard and Charlie Carr singing.
For the children there will be face painting and arts & crafts activities.
There will be stalls with information about refugee issues.
Tea, coffee, juices and cakes will be sold. Feel free to bring a cake for the refreshment table.
Car parking spaces are limited at the Birchcliffe Centre. We would like these spaces to be for cars with disabled passengers. We encourage you to walk or take the bus to the Birchcliffe Centre – see their website for details.

We are very grateful to Community Foundation For Calderdale for their grant towards this event.
We expect around 80 asylum seekers and refugees from Halifax, Rochdale, Leeds and Sheffield to attend the event. We will pay their transport costs to come and will provide them with a free lunch and refreshments.
If you would like to sponsor one of the asylum seekers to be able to come you can give a donation here. Or you can send a cheque made payable to 'Together We Grow' to Warcock Hill Barn, Long Causeway, Blackshaw Head, Hebden Bridge, HX7 7JB.