The Wiz from Calder Valley Youth Theatre
Sunday, 9 October 2016
Calder Valley Youth Theatre based in Hebden Bridge are preparing for their next major production The Wiz which will be performed at The Halifax Playhouse in Halifax from the 2nd to 5th November.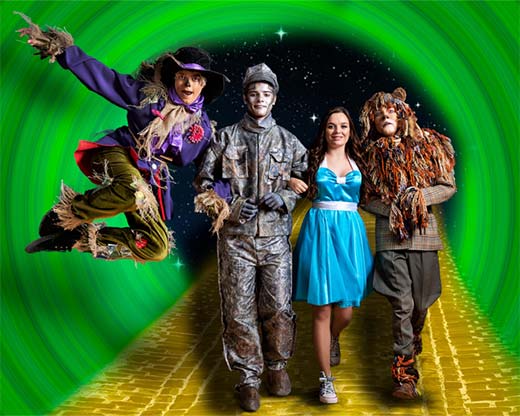 Wizard of Oz music modernised
The Wiz is a retelling of L. Frank Baum's classic 1900 children's novel The Wizard of Oz in the context of modern African-American culture. The original score is set to the urban music culture of the 70s and includes music in the style of R&B, soul, funk and disco.  Classic soul numbers like 'Ease on down the Road' & 'A brand New Day' all come from this version of this eclectic show.
Previously featuring Michael Jackson and Diana Ross
This thoroughly modern version of The Wizard of Oz has rarely been seen since its debut in the 1970s which featured Michael Jackson and Diana Ross.  It was revamped last year with a modern cast including Mary J Blige, Ne-Yo, Common and Queen Latifah and features some awe-inspiring dance routines and an amazing musical score. 
6 months rehearsal
The cast of children aged from 8-18 have been rehearsing for 6 months to give the show the Calder Valley Youth Theatre treatment which previous audiences have come to expect from this very ambitious youth theatre.
Professional and slick
In recent Calder Valley Youth Theatre shows like Les Miserables, Cats, Starlight Express, Grease and Flashdance, it is evident how much of a huge pool of talent there is along the Calder Valley.  Reviewers regularly continue to be surprised by how professional and slick Calder Valley Youth Theatre performances are.
David Mitchell, Calder Valley Youth Theatre Chairman and Musical Director said, 'It is often difficult to remember that you are watching a youth theatre production at Calder Valley Youth Theatre. The talent really does ooze form every cast member. It is also fantastic to watch them all grow in confidence as rehearsals progress and to see how the older members of the cast support the younger ones with tips and coaching to help them develop their characters'.
Dates and tickets
The Wiz will be performed on 2nd – 5th November 2016 at 7.15pm nightly with a Saturday matinee at 2.15pm at The Halifax Playhouse. 
Tickets are now on sale through the website www.cvyt.co.uk or from the Halifax Playhouse box office.