Market Street short-listed in Britain's Best High Street competition
Tuesday, 18 October 2016
Market Street in Hebden Bridge has today been named as one of the country's best high streets by being shortlisted in the third annual Great British High Street competition.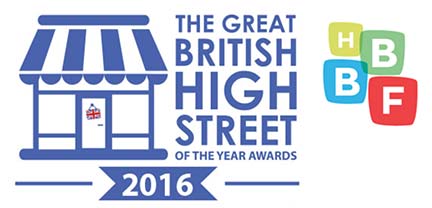 Hebden Bridge's high street has been named alongside two others as one of the top three in the Small Market Town category. The two towns that we are up against are both in Oxfordshire - Chipping Norton and Thame.
Now, to be crowned champion, they need your votes. You can vote here
This year's competition saw a record 900 entries across all 14 categories, including new categories for individuals and shops. Now the shortlist has been drawn up and the public has the chance to vote directly for their best-loved high street online.
If Market Street wins, not only will they get a share of prize pot worth £100,000, but also expert training from Google's digital taskforce for shops, bars and restaurants and a trip to Twitter UK's London office to further boost their social media skills.
High Streets Minister Andrew Percy said, "Our high streets are the life and soul of towns, villages and cities across the country and the record number of competition entries, this year is proof of their continued
importance to local life.
"From North London to Northumberland, great work is underway to adapt the high street to the needs of modern life.
"I want to wish all who've entered the very best of luck."
The Great British High Street Competition 2016 celebrates the great work that is being done to revive, adapt and diversify the nation's high streets.
It is one of a number of initiatives to help champion high streets as the cornerstones of the community.
The Government is helping local business communities adapt to the changing face of high streets, with a £6.7 billion package of business rates support, to cut the rates for 900,000 businesses – with 600,000 now paying none at all.
Market Street on YouTube: Jason Elliott's excellent video showcasing Market Street shops. Hear from Market Street shopkeepers in their shops on why this street is so special.
See also
HebWeb News: Market Street, Hebden Bridge in the running to win Great British High Street competition