Blues greats play The Trades Club
Friday, 21 October 2016
Blues great Brooks Williams and Guy Davis have joined forces for a joint UK tour which includes a date at Hebden Bridge Trades Club.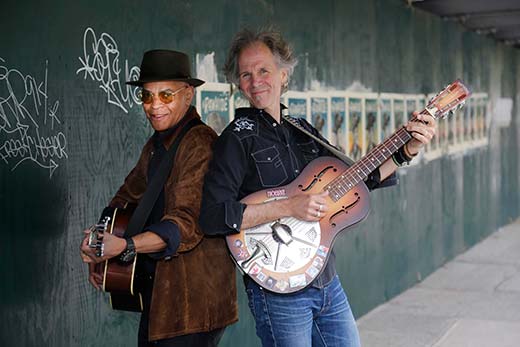 Both are highly rated performers in their own right, but a one collaboration to test the waters and see if their styles worked on the same stage led to their first co-headlining tour.
"We did a dry run in Upstate New York last year and, wow, Brooks already has such a bluesy repertoire," recalls Guy. "At one point while I was playing, he picked up the 1919 Martin mandolin I had with me, and played some of the sweetest Yank Rachell type stuff I've ever heard.
"The better he played, the better I played so this tour definitely had to happen."
Brooks and Guy cite a veritable who's who of blues greats like J.J. Cale, Bessie Smith, Snooks Eaglin, Blind Willie Johnson, Sister Rosetta Tharpe, Leadbelly, Leo Kottke, Blind Willie McTell, and Bernard Herman as influences. But give that broad palate of blues styles what can fans expect on this tour?
"The idea behind this 'Inside the Delta' tour is to give audiences an opportunity to hear the blues from two very different but similarly inspired blues musicians," notes Brooks. "Both of us have been profoundly affected by the blues, but how it sounds when we play it is different. The blues is resilient like that.
"Blues is a broad church with a wide catchment area. We're going to not only show what the blues means to us individually by doing solo sets, but we'll also explore what it's like when we bring our two voices together for part of the show."
Brooks Williams and Guy Davis play Hebden Bridge Trades Club on Thursday 10 November.
Tickets are available from the club on 01422 845265 or online here