History Society Report: Research interests of members
Speakers: Murray Seccombe, Keith Stansfield, Hywel Lewis
Wednesday, 2 November 2016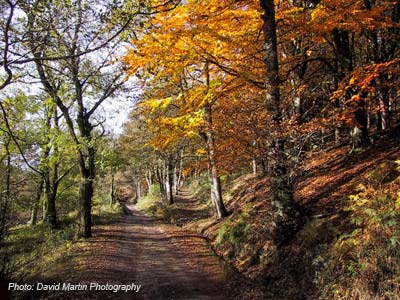 Following a short AGM, members of Hebden Bridge Local History Society were given a privileged insight into the research interests of some of its members, which proved fascinating and inspiring.
Murray Seccombe, with a background in Community transport, and a familiarity with the area, is investigating the history of transpennine crossings for a PhD. He is looking at the period from the mid 16th century through to the coming of the turnpike roads in the 18th century. A particular fascination is the way social changes followed the development of roads, and the differences between life on the 'tops' and in the valleys after the low level routes were laid.
Keith Stansfield's area of expertise is in family history, and he was inspired by television biopics of Gracie Fields to investigate the Stansfield family tree. In the 1930s Gracie Fields (Stansfield) was the highest paid movie actress in the world, but her origins were in the rooms over a chip shop in Rochdale. Piecing together evidence from censuses, parish records, graveyard records and passenger ships, Keith has uncovered some interesting facts about the Stansfield family. Most notably he finds we can now claim that she is indeed 'Our Gracie', as her great-great grandfather William Stansfield lived in Bridge Lanes! Keith's talk provided a brief tutorial into the methods, frustrations and pleasures of researching family history.
Most of us see the woodlands as a place of relaxation, but Hywel Lewis is looking at their industrial uses over the centuries. The woods were an essential part of the industrial life of our area. In his short talk Hywel focused on Knott Wood, behind the Staff of Life pub in Todmorden. His PhD study uses the traditional resources of documentary evidence from maps, legal documents and newspapers, but also encompasses the latest in technology such as laser produced aerial images of the landscape. Best of all, perhaps, is the pleasure to be found by walking through the area and discovering archaeological evidence, or the wonderful contorted shapes of ancient oaks that had been coppiced over the years. From just this one location came the wood for clogs, pit props, bobbins and joinery, oak bark used in tanning and the charcoal that was essential in the wool-combing process.
Meetings of the Hebden Bridge Local History Society are held on the second and fourth Wednesdays until the end of March in the Hebden Bridge Methodist Church and begin at 7.30.
On Wednesday 9th November Kevin Illingworth will be talking about Traditional Farmhouses and Buildings in and around the Lancashire and Yorkshire Pennines. Details of the full programme from www.hebdenbridgehistory.org.uk
With thanks to Sheila Graham for this report