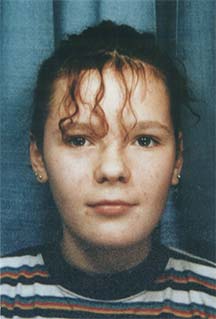 Canal worker who found Lindsay Rimer joins the anniversary appeal
Thursday, 3 November 2016
The HebWeb started in the summer of 1995. During, the subsequent 21 years, one story has been covered again and again - the unsolved murder of Lindsay Rimer.
It's deep, dark shadow continues to hang over our valley.
One of the men who found the body of murdered Hebden Bridge teenage Lindsay Rimer is supporting police with a further appeal for information, 22 years after the school girl was last seen.
Local man, Andy Glover, who stills lives locally in Mytholmroyd was one of two canal workers who made the grim discovery of Lindsay's body in April 1995 whilst working on the Rochdale Canal.
More than two decades have passed since the 13-year-old was last seen in the town on 7th November 1994. The last known sighting of her was at just after 10.22pm at the Spar shop on Crown Street. Monday marks the 22nd anniversary of Lindsay's last known movements.
In his interview, Andy spoke about the moment he and his colleague found what they first thought was a sheep.
As part of our weekly tasks we checked the lengths of the canal. There were regularly items in the water that we had to remove, like reed-beds, deceased cattle, sheep and deer. We thought that it was a sheep. As we pulled it towards us, the body rolled in the water. There was no mistaking who it was, we saw the stands of hair on her face and knew.
"We had found Lindsay Rimer.
"I got home late that day, and my wife was asking where I had been and why I hadn't phoned. I just said, "We have found her." I didn't need to say who. She knew instantly I was talking about Lindsay.
"It has stayed with me, it always will."
Detective Superintendent Simon Atkinson from the Homicide and Major Enquiry Team (HMET) is leading the investigation. He said, "Over the years, a number of people have come forward with names and details that had previously not been known about or considered. No piece of information is treated lightly and every new detail is meticulously examined to determine its place within investigation.
"We are still waiting for that one 'golden nugget' that leads us to Lindsay's killer and hope that the person who knows what happened will come forward to help us solve the case, and bring closure to the Rimer family.
"Watching Andy's clip, you can only imagine the shock, horror and terrible realisation of what he and his colleague discovered whilst going about their normal days' work. The trauma of finding a body, and then understanding that it is a missing girl, similar in age to your own daughter was understandably very upsetting at the time and something that has stayed with him all these years.
"Someone somewhere knows what happened to Lindsay, it is a weight that they have carried for over two decades and I am appealing again, directly, to that person to come forward and help me crack the case for the Rimer family. Twenty two years is a long time. People may have moved away from the area over that time, and may now live in other towns and cities. Did you live in Hebden Bridge or the surrounding area in 1994? Were you socialising, working or living locally and did you not come forward before, because you were not sure of the significance of what you may have seen or knew?
People's allegiances may also have changed. Perhaps you harboured suspicions about someone back then, but didn't feel you could come forward. Or perhaps you saw something back on the night Lindsay disappeared in November 1994 whilst walking your dog, or looking out of a window, but didn't think it was important.
"I would once again, appeal to anyone who has not yet felt they could come forward over the last 22 years, but may now feel they can, to make that call. The information you have, not matter how small it may seem in isolation, could well be the piece of the jigsaw that finally helps us bring justice for Lindsay and her family.
"The person, or persons responsible for Lindsay's murder, and concealing her body in a watery grave do not deserve protection. They deserve only to be brought to justice."
Lindsay's last known movements
On November 7 1994, Lindsay left her home on Cambridge Street, Hebden Bridge, to go to the shops. She paused briefly at the Trades Club on Holme Street where she met her mum before moving on to Crown Street.
On Crown Street she went into the Spa Shop and CCTV from the store shows her buying the cornflakes at 10.22pm. It is not known what happened to her then.
Anyone with information about the crime is asked to call detectives directly on 01924 334604. Alternatively contact Crimestoppers anonymously and in confidence on 0800 555111.
See also
ITV News: Lindsay Rimer: the 22-year mystery of the murdered schoolgirl 3 Nov 2016
HebWeb News: Lindsay Rimer 21 years on: sister Juliet speaks for the first time. April 2016
HebWeb Feature: The Murder of Lindsay Rimer
HebWeb Forum: Lindsay Rimer 12 April 2016
YouTube: Appeal made by Detective Superintendent Simon Atkinson, 20 years after Lindsay Rimer's disappearance, Novemeber 2014.
YouTube: Lindsay Rimer's sister Kate speaks for the first time, 20 years of Lindsay's body was found. April 2015
The Guardian: Sister of murdered girl makes appeal 21 years after disappearance 12 April 2016
Yorkshire Post: 21 years on, sister breaks her silence on a most notorious unsolved Yorkshire murder 12 April 2016
Daily Mail: Fresh DNA clue to murder of Lindsay Jo 22 years on: New evidence sent for testing in bid to find who killed schoolgirl that vanished as she went to buy cornflakes 12 April 2016
BBC News: Lindsay Rimer death: New DNA leads in 1994 murder case