Parking: Old Fire Station to open its gates to cars again
Thursday, 17 November 2016
There will be a little bit of extra Christmas joy for shoppers and traders in Hebden Bridge in the lead up to the festive season. In a joint initiative between Bridge Mill owner, David Fletcher, and the Upper Calder Valley Renaissance business support team, the former car park at the old fire station site will be reopened for up to six months.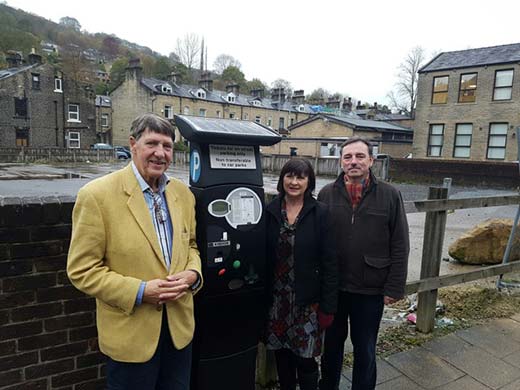 David Fletcher of the Innovation Cafe said, "I approached the owners Eshton Gregory, who had closed the car park last year at the end of their agreement with Calderdale, to see if they would rent the site privately until they have decided on a plan for it. They have agreed to this proposal, and I'm delighted to say that the Upper Calder Valley Renaissance have agreed to manage the project and also support some of the rental and set up costs."
Stephen Curry, Chair of Upper Calder Valley Renaissance, said, "As we have spent almost all our time this year on strategic support for business recovery along the valley since the floods, it seemed entirely appropriate to end the year supporting such a smart economic initiative. This will boost the trade in Hebden Bridge at just the right time. Businesses here made up 30% of the total devastated by flooding along the Calder Valley and this will help in their ongoing recovery process".
Val Cryne of the Cook & Coffee shop, and Vice Chair of the Hebden Bridge Business Forum, said, "This is great news. What a fantastic early Christmas present for both the traders and shoppers. And it's just in time for Hebden Bridge's late night shopping on 2nd December and 'Small Business Saturday' on 3rd Decemeber. We would like to thank both David and the Upper Calder Valley Renaissance for making this happen".
The car park will be opened on 24th November. David said, "Because this is a short-term project it can't be run like the pay and display carpark it was. It will need be a manned car park, so only open during the day, except for the late night shopping event.  We want to encourage people to stay longer in the town, so the charges will be simple: £1 for up to two hours or £5 for all day. Those using Bridge Mill Café and shopping at Innovation will get a refund of parking charges.
Stephen Curry added, "as a not for profit company the Upper Calder Valley Renaissance would hope to cover its costs only, but any share of a surplus will be used to support our work in the community. The main purpose of this initiative is that the local economy gets a real lift for the festive season and beyond".