Christmas Singalong and first glimpse of Hebden Bridge Piano Festival 2017
Tuesday, 22 November 2016
My annual Family Christmas Singalong, which raises funds for Hebden Bridge Piano Festival, takes place this year at 5pm on Saturday 17th December and will feature mince pies and mulled wine, Scottish bagpipes, carols from Wainsgate Waits and of course lots of singalong fun with me at the new piano at Hebden Bridge Town Hall. Tickets (£10/£8/£3) go on sale at 10am on December 1st at the Town Hall (weekdays 10-4) and online here. The event always sells out quickly so be sure to get your tickets as soon as they're available.
And now for exciting info about next year's Piano festival: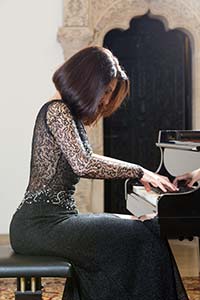 Following another highly successful weekend in April 2016, programming for the 5th annual Hebden Bridge Piano Festival, which starts on April 21st 2017 at Hebden Bridge Town Hall, is now almost complete. As always, the weekend will be packed with exciting and wonderful concerts, masterclasses, free gigs, and family-friendly events.
The 2016 Festival had a distinctly international flavour to the line-up with performances by pianists from China, Russia, Poland, India and Greece. 2017 looks set to better this, with artists originally from Romania, Israel, Portugal, Scotland, Jordan, South Korea, Belgium and the USA performing at the Festival.
Headlining the Festival is Lisbon-born virtuoso Artur Pizarro, whose distinguished career started when he took 1st prize at the 1990 Leeds International Piano Competition, along with young Romanian pianist Alexandra Dariescu who has performed at the Royal Albert Hall and at New York's Carnegie Hall, and David Greilsammer who takes a break from directing the Geneva Camerata to present a concert that contrasts the Baroque style of Scarlatti with the Sonatas for prepared piano by John Cage.
Sharing the bill with these luminaries are Murray McLachlan whose lecture/recital "The Pianist as Hero" promises to be as entertaining and informative as it will be virtuosic, and the extraordinarily gifted American jazz pianist Marc Cary who will be making a rare appearance as a solo recitalist. Jordanian pianist and RNCM graduate Iyad Sughayer presents a superb programme for his lunchtime recital, and another is given by the four-hands, two-piano partnership of Victor Lim and Ryan Drucker.

If you'd like to hear some of these remarkable pianists in action
visit our Youtube channel.

A celebration of the piano and piano music, the Festival continues to programme concerts given by performers of national and international repute alongside recitals and other piano-associated events which involve the local community, such as high-quality but inexpensive concerts for children and families, recitals by students and local pianists, and free events featuring non-classical piano music played by pianists from around the region. As always, the 2017 programme follows this well-tested formula whilst also experimenting with new ideas.
The launch of the 2017 programme takes place in Hebden Bridge Town Hall on Saturday 11 March when tickets, including great-value weekend passes, will go on sale.
More information will appear on the website as soon as it is available.
Warmest good wishes

David Nelson
Artistic Director, Hebden Bridge Piano festival