History Society Report
Women, down tools! The women machinists' strike in Hebden Bridge
Speaker: Andrew Bibby
Wednesday, 30 November 2016
Exactly a hundred years ago, in November 1916, at the height of World War One, the women garment makers of Hebden Bridge were fighting for an increase to their pay, and supported by their Union, went out on strike. Andrew Bibby, whose researches into the Hebden Bridge Fustian Manufacturing Co-operative Society opened up archival resources relating to this period, outlined the story of this unusual strike to Hebden Bridge Local History Society.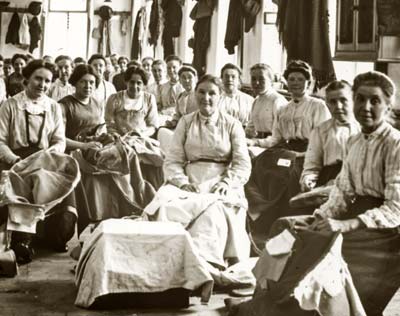 The manufacture of cloth, especially the khaki for army uniforms that was produced in Hebden Bridge, was an essential of the war effort, and though there had been some wage increases in the form of war bonuses, rocketing inflation was causing considerable hardship.
There was little sense that men and women should receive equal pay, and in fact the women machinists were on a piecework rate, while the men were paid hourly. An attempt was made by the manufacturers to settle the dispute by raising the hourly rate but insisting that the demand for an increased piecework rate be dropped.  However, the United Garment Workers Union was dominated by women, and it proved impossible to ignore their demands.
The men may have felt this was not their struggle, but Union leaders like Annie Loughlin and local secretary Sam Craven insisted on solidarity. With 2000 striking women in the town, there could hardly have been a family that was untouched.
Spirits were probably high when Annie Loughlin addressed the massed strikers at the Royal Electric Theatre, but this was not simply a dispute between manufacturers and workers – as the strike bedded in questions were asked in Parliament, and by the end of November the Board of Trade insisted on arbitration.
Despite women making up the vast majority of the local strikers, the final deal seems not to have improved their lot to any great degree. Gains in basic pay were offset by cuts in the temporary war bonuses and Sam Craven pronounced it a 'very moderate' gain.
As in all historical research, it is the availability of archived material that helps to fill in the picture of the past. Andrew explained that the information that he has pieced together came from local newspapers, but more importantly from the archive of material relating to the Nutclough Co-op held by the Co-operative archives.
However, the Nutclough was not the only or main employer involved in the dispute, and it would be very exciting if archives from other manufacturers eventually emerged. Voices from the past are often hard to hear, and strong characters like Sam Craven can drift into sharp focus and then disappear.
However it is remarkable that despite this being predominantly a strike by women, no female voice is heard - even Annie Loughlin, who rose to pre-eminence in the Union movement later, is not recorded as being involved in the dispute or arbitration process.
It is part of the frustration and excitement of historical research that some gaps can't be filled.
Voices are at the heart of the next festive themed meeting of the Hebden Bridge Local History Society on Wednesday December 14th, when Diana Monahan takes A Local View of Carols and Christmas. Meetings are held at Hebden Bridge Methodist Church and begin at 7.30 pm. Everyone welcome. Details can be found on the website www.hebdenbridgehistory.org.uk
With thanks to Sheila Graham for this report