Hebden Bridge Picture House: The Life and Times of a Local Treasure
Wednesday, 30 November 2016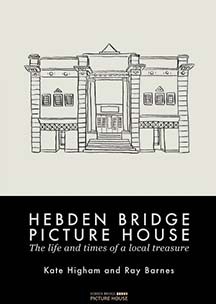 The Friends of the Picture House are delighted to announce the release of Hebden Bridge Picture House: The Life and Times of a Local Treasure, a book of the history of the cinema written by daughter and father team Kate Higham and Ray Barnes.
With over 188 pages it weaves the tale of the iconic cinema against the backdrop of a century of Hebden Bridge history and the wider developments in the British cinema industry. With over 170 photographs, and new interviews with former staff and long-term cinema-goers, this is the first time the full story of this rare survivor from the glory days of cinematic entertainment has been told.
The Picture House has had many narrow escapes over the years, many times when its survival has been on a knife edge. Luck has played its part, but this is the epic story of passionate, dedicated local people battling against great odds to save this local treasure from oblivion.
The book also features a remarkable section, with dozens of old photographs, on 30 of the historic cinemas in Todmorden, Cornholme, Sowerby Bridge, Halifax, Bacup, Elland and Brighouse that the Picture House has, against the odds, outlived.
All proceeds from the sales will go towards supporting and improving the Picture House and is now on sale at the cinema box office for £10.