Calder Valley Voices' Christmas Concert raises £600
Sunday, 11 December 2016
Hebden Bridge-based Calder Valley Voices choir raised more than £600 at its annual Christmas Concert at Hebden Bridge Methodist Church on Thursday, 7 December.
More than 40 choir members performed, led by musical director Carol Donaldson.
The money will be shared between Freedom from Torture (FfT), which helps refugees who have suffered appalling treatment through wars, tyranny and extremism before finding refuge in Britain, and the Forget-me-not children's hospice in Huddersfield, which helps children suffering life-shortening conditions, and their families.
The choir meets every Thursday evening during school term times from 7.15pm to 9.30pm at Hebden Bridge Methodist Hall in Market Street.
The choir's next gathering is on Thursday, January 4. 
Calder Valley Voices' Charity Christmas Concert
Monday, 5 December 2016
Calder Valley Voices, the community choir based in the upper valley, welcomes everyone to their Christmas Concert of songs collected from around the World.  The charity concert in Hebden Bridge will be in the Hebden Bridge Methodist Hall on Thursday 10th December.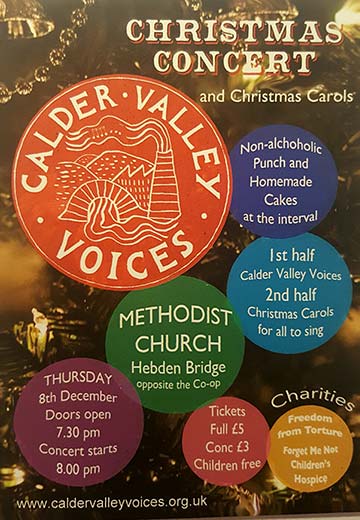 Director Carol Donaldson will lead the Choir in a range of rousing and beautiful seasonal music.  After an interval with cake and drinks, the audience will be invited to sing along to favcourite carols and other well-known songs.
All the proceeds will go to two charities voted for by the Choir – Freedom from Torture, which cares for asylum seekers who have suffered abuse in their home countries and Forget-Me-Not, providing support for children with life-shortening conditions in West Yorkshire.
Details of the concert
Methodist Hall, Market Street, Hebden Bridge (next to the Co-op Supermarket)
Thursday 8th December. Doors open 7.30pm for concert 8.00-10.00pm (incl. interval with refreshments)
£5 standard, £3 concessions, free for children
Committee member, Paul Forrest said, "We are always keen to welcome new faces, so please come to the concert and have a word with us or just join up in the new year if you're interested – we're open to all, no auditions.  The first session of the new term will be at 7.15pm on Thursday 5th January at the Methodist Hall on Market Street, next to the Co-op Supermarket in Hebden Bridge."
More information is on the website