£37,000 grant will help Hebden Bridge get affordable housing
Tuesday, 6 December 2016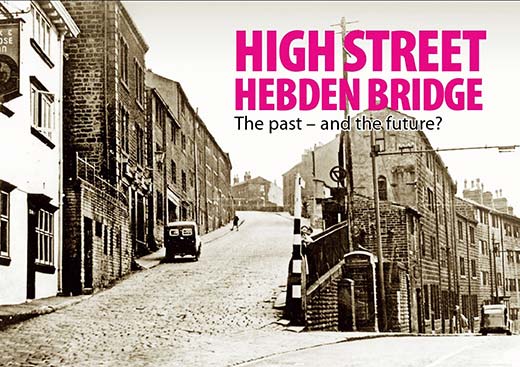 Hebden Bridge has had an early Christmas present. Local charity Calder Valley Community Land Trust, which is working to bring more affordable housing to the upper Calder valley, heard this week that it has been awarded a feasibility grant of £37,700 to enable it to advance its project for the former High Street area to the west of the town centre.

High Street, once a very populous part of the town of Hebden Bridge, was completely demolished in the 1960s slum clearances. Only a forgotten tarmac lane off Heptonstall Road shows where once the banks of terraced houses were built. But High Street could live again, if the Community Land Trust is successful in its plans for a small development of affordable housing for rent on the land.

Dave Nugent, trustee of the Community Land Trust, says, "We want to avoid new development on greenfield sites, so in Hebden Bridge this means looking closely at those parts of the town where once upon a time there used to be housing. High Street is not an easy site, but we think that there's a real possibility of bringing quality affordable homes back to this part of the town. The grant we have received will help us progress the proposals towards planning stage."

The grant has been awarded under the Community Buildings Project Support scheme, funded by central government. The Community Land Trust also successfully applied for an earlier pre-feasibility grant of £ 10,000 for the same site.
Calderdale hands High Street to Land Trust

It has been a busy few weeks for the CLT trustees, since shortly before news of the grant was received Calderdale council's Cabinet agreed to pass ownership of the High Street land across to the CLT, as an asset transfer. The decision was taken at November's Cabinet meeting.

"With the land under our control and the grant safely banked, we now have a real opportunity to progress this exciting project. Since this is not a development being proposed by a commercial company looking for profit, we'll be able to listen very carefully to what local people say they want on this site," Dave Nugent adds.

The CLT held an early public consultation on the proposed development last February and has announced that it will be holding another similar event early in the New Year. The CLT also has a strong commitment to building sustainable and environmentally friendly homes, and is keen to have further input from local people in this area.

The Calder Valley Community Land Trust is one of over 170 CLTs established in different parts of the country which are trying through direct community endeavour to improve access to affordable housing in their towns and villages. The Calder Valley CLT is established as a charitable community benefit society, designed to serve the Calder valley from Todmorden to Elland. It has over sixty members who each year elect the unpaid board of trustees.
More information is available on www.caldervalleyclt.org.uk