Yorkshire Cycling award goes to Hebden Bridge's Paralympic medallist, Steve Bate
Wednesday, 7 December 2016
Yorkshire cycling has formally recognised two of Yorkshire's multi-medal winning Paralympic champions by announcing that the C.A.Rhodes Memorial Award for 2016 is to be made to Steve Bate and Adam Duggleby.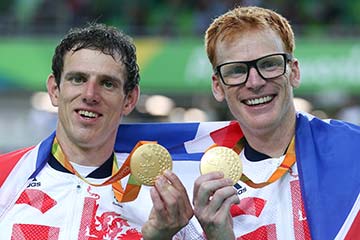 The Memorial was instigated in 1961 as a tribute to the memory of Charles Arthur Rhodes (1895-1961), doyen of the Yorkshire Road Club, co-founder in 1932 of the Yorkshire Cycling Federation and a nationally recognised timekeeper and administrator. The award is regarded as the greatest distinction which Yorkshire cycling can bestow.
The Award citation reads as follows: "Steve Bate and Adam Duggleby are worthy of the Award, having brought exceptional honour to Yorkshire cycling, winning two golds and a bronze medal at the Rio de Janeiro Paralympics."
Whilst living in Scotland, New Zealander Steve Bate excelled as a climber, despite his visual impairment. Following a successful trial for the British Cycling Paralympic Squad he then relocated to Yorkshire.
Born and bred in the East Riding of Yorkshire, Adam Duggleby began cycling at an early age. He displayed exceptional talent and became champion in the 2000 Juvenile Circuit Race, the 2001 GHS National 10 Mile and in both 2001 and 2002 the Junior 25 Mile. After university, he resumed his success with wins in the team time trial and track national championships.
British Cycling paired Adam and Steve together on the Paralympic Squad and they began tandem racing in 2015. Early international successes were achieved in UCI Para-cycling World Cup events with a full tally of gold, silver and bronze in road races and time trials. In 2016, they continued their World Cup rides with a time trial bronze in Ostend, earning selection for the Rio Paralympics.
In scintillating form for Rio, they opened their account with gold in the track pursuit, achieving two world records in the process. They followed this with another gold in the road time trial and completed their campaign with a strong ride for bronze in the road race.
Steve and Adam also made their mark in domestic time trials as part of their Rio preparation by establishing men's tandem competition records at 10 miles (17:06) and 25 miles (43:23); in this they attained an outstanding level of achievement in Yorkshire cycling and are further qualified to receive the award."
Steve Bate (39) lives in Hebden Bridge - he moved here specifically to pursue his Rio Paralympics tandem cycling ambitions. Prior to taking up cycling he was a climber of note and with only 10% vision in 2013 he became the first visually impaired solo climber to conquer the 3000ft sheer rock face of El Capitan in Yosemite, California.
Adam Duggleby (32) is originally from Gilberdyke, East Yorkshire, but now lives in Leeds. He has been a racing cyclist since the age of 13, winning numerous local and national awards, with a break whilst he went to university where he successfully graduated in mathematics and accounting.
The C.A.Rhodes Award will be presented at the Yorkshire Cycling Federation annual luncheon, to be held on 26th February 2017.