Lit & Sci Meeting Report
Dr Nicholas Cullinan: Picasso's Portraits
10 December 2016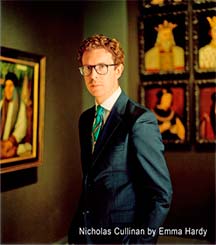 With an artist as prolific as Picasso there are always new ways to approach his work, perhaps as many ways of looking and thinking as he found ways of portraying. Dr Nicholas Cullinan, the recently appointed Director of the National Portrait Gallery in London, returned to his home town of Hebden Bridge to talk about the current exhibition of Picasso's Portraits.
A packed Waterfront Hall had the fantastic treat of seeing images of the portraits in the exhibition, coming from major public and private collections across the world, with many never before placed on public view. Dr Cullinan hinted at the persuasion and arm-twisting involved in getting galleries and private owners to agree to lend their prized Picassos. This problem is exacerbated by the fact that an impecunious young Picasso couldn't afford the best materials, so many of the early works are becoming very fragile. Nevertheless the range of portraits in all media that have been brought together gives a strong sense of the development of Picasso's art of portraiture.
Picasso never painted portraits as commissions, those he portrayed are friends, wives, lovers and children, so he wasn't seeking to please someone else. His style was adapted to the subject – for example, different women are portrayed in diametrically different ways that convey his changing emotions, from tender classical drawings, to massive statuesque figures and the disruption of cubism, all capture something essential about the relationship between artist, subject, medium and style.
Picasso doesn't only engage with the subject, in his painting he is also engaging with conventions of portraiture and art; the work of the great masters of history and his admired contemporaries are also part of the make up of his art. Dr Cullinan's comments and descriptions added pertinently to the images that we could see. It was fascinating, for example, that while a beautiful classical study of his wife Olga was taken from a photograph, a complex cubist portrait of his dealer Ambroise Vollard was made from life. Even the most seemingly abstract of Picasso's portraits are imbued with the life of the subject, especially when he is painting his lovers and his children.
A constant for Picasso, as for many great artists, was the self portrait. There was an early self portrait drawing made when he was fourteen, which showed extraordinary mastery. At other times he portrayed himself in various characters and roles, or simplified into a symbol, with the trademark blue striped sweater. Whatever the style, it is his dark eyes that draw you … both literally and metaphorically. All this art is about ways of looking, and after such a stimulating introduction from Dr Cullinan, many in the audience will surely be finding their way to the National Portrait Gallery to see for themselves.
This talk was another exceptional opportunity brought to Hebden Bridge by the Literary & Scientific Society.
Two more talks follow in 2017. On February 4th there will be a chance to hear Professors Richard Wilkinson and Kate Pickett, co-authors of the book 'The Spirit Level' speak about 'Inequality and Social Anxiety' and on March 18th Professor Angie Hobbs will speak about 'Philosophy and the Public Good.' Tickets are priced at £10 with £8 for concessions and are available from the Town Hall.
With thanks to Sheila Graham for this report
Previously
HebWeb News: Lit & Sci: Report of talk by Sir Mark Elder
Monday, 7 November 2016