News in Brief
Yorkshire Post on Hebden Bridge win: "Flood-hit Yorkshire high street and village bring award honours to region." (13 Dec)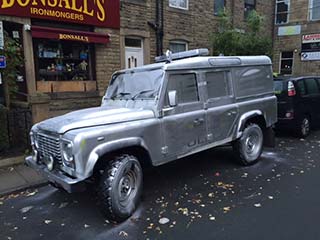 Police vehicle sprayed silver, opposite market. Inspector John Simpson said, "Some people might find this funny but the extent of the damage means that this vital emergency vehicle will be off the road whilst it is repaired at a cost."  11 Oct
Craig Whittaker, our MP, spoke Friday in Parliament against a new law to pardon all gay and bisexual men in England and Wales historically convicted of sexual offences that are no longer criminal. Read more. 22 Oct)
Calder Valley on Film: From a boisterous carnival in Hebden Bridge in 1924 to footage of the annual Pace Egg play in the 1960s, the event was a nostalgic glimpse back in time at Hebden Bridge and the surrounding areas. October at the Picture House.
Craig Whittaker, our MP, spoke Friday in Parliament against a new law to pardon all gay and bisexual men in England and Wales historically convicted of sexual offences that are no longer criminal. Read more. 22 Oct)
Apple Day at Valley Organics
Thursday, 20 October.
Police appealing for witnesses after a cyclist was killed in a collision on the Keighley Road between Pecket Well and Hebden Bridge on Sunday afternoon. (18 July)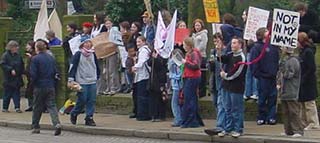 Chilcot Report: On the day the Iraq War started, Hebden Bridge was full of demonstrating students from Calder High School, 13 of whom were suspended. See HebWeb News from 20 March 2003: Calder High Students organise Peace in the Park (6 July)
Retired Head walks to Italy. Roger Gill, 69, is walking 1,200 miles from Hebden Bridge to Italy. Read the article in the Yorkshire Post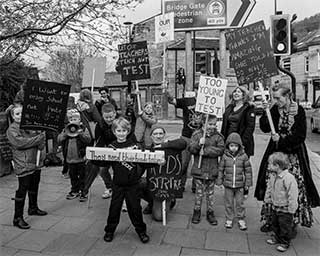 School children's strike against SATs in Hebden Bridge this morning (Tues 3rd May) - click to enlarge. Photo thanks to the After Alice Project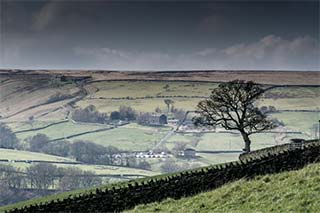 Picture House fully open from Friday, 25 March. 3 months after the December floods, stalls seating and disabled access will reopen on Friday 25th March.
After the floods: Co-ops to re-open Friday, 18 March. The coops in both Hebden Bridge and Mytholmroyd will re-open this week.
After the floods: Work begins on dredging canal in Hebden Bridge and Mytholmroyd - see Yorkshire Post article 9 March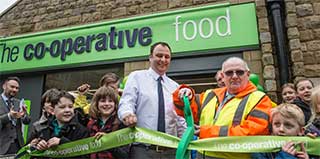 Re-opening the Co-op in Hebden Bridge. Keith Crabtree, flood warden, cuts the ribbon. Photo thanks to Craig Shaw 18 March
After the Floods: Ian McMillan re-opened The Book Case, on Wednesday 16 March. Ian said, "A bookshop is the social and cultural heart of any town and I'm proud to be able to declare the Book Case dried out, spruced up, and ready to delight the Calder Valley and beyond by purveying fine volumes!" See What's on
Waites not re-opening: we reported a month ago that the Hebden Bridge shop would remain closed. An announcement on Waites' Facebook page says that the Mytholmroyd shop will not re-open either.
The Manchester and Leeds Railway: 175th Anniversary - 1st March 2016. Read story (PDF) from Friends of Hebden Bridge Station.
After the floods: Overgate Hospice shop in Crown Street is re-opened on Thursday, 10 March at 11am.
House of Commons - adjournment motion on flood insurance for business, where Craig Whittaker, MP for Calder Valley, took an active part. Read Hansard report of yesterday's discussion. 9 Feb
Calderdale Flooding Roadshows - Hebden Bridge, 13 Feb and Mytholmroyd, 27 Feb. See What's on
Liz and The White Swan is a short video of how the Boxing Day floods affected The White Swan. Interviewed by Jason Elliott, Liz tells what the Boxing Day floods did to her pub.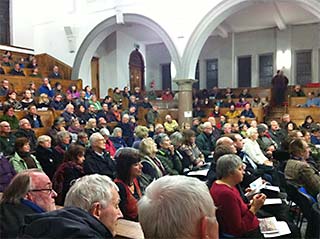 Above - Floods Public Meeting: Causes And Solutions, 21st Jan, Birchcliffe Centre. Follow the discussion on the HebWeb Forum
Photo: Geoff Tansey
Sarah Millican, Rory Bremner and Justin Moorhouse to play at Halifax's Victoria Theatre for a Flood Benefit on 8 Feb. See What's on.
In response to the recent devastating floods across the area, Hebden Royd Town Council held an Extraordinary Meeting at 7:30pm on Tuesday 12th January, in the Council Chamber at the Town Hall, Hebden Bridge.