Affordable housing project
Wednesday, 4 January 2017
Local charity Calder Valley Community Land Trust has fixed on Saturday 14th January as the date for its public consultation on the proposed affordable housing project in Hebden Bridge.

All interested in discussing the best ways that housing can be brought back to the High Street area of the town, once a series of streets of terraced houses which were demolished in the 1960s, are invited to come to the consultation session, at the Methodist Church hall (opposite the Co-op) at 10.30am. The architects for the project, Bauman Lyons of Leeds, will be there as will the trustees of the Community Land Trust.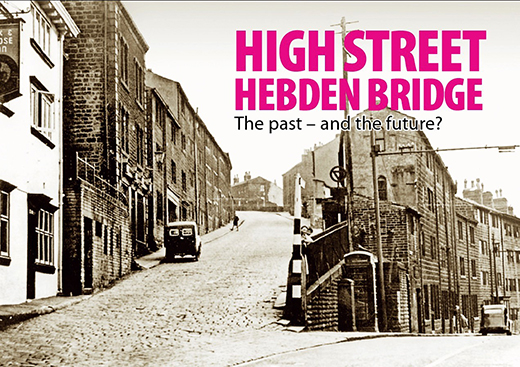 Dave Nugent, one of the trustees, says, "There has been talk in the community for many years of the need for more affordable housing in Hebden Bridge, particularly to provide homes for local young people, and we now have a real opportunity to begin to turn hopes and ideas into reality. We'll be working hard to find the best ways of creating attractive and environmentally sustainable buildings in a part of the town which has a long if forgotten history."

January's consultation will follow on from an earlier event also hosted by the Community Land Trust and held last February. About sixty local people attended a workshop at the town hall at that time and gave detailed ideas and views on how High Street could successfully be made to live again. A full report of the suggestions and comments is available on the Land Trust's website.

Calder Valley Community Land Trust says that it also wants to find out whether there is interest among local people needing housing for co-housing type arrangements. Recent years have seen growing interest in co-housing schemes, which enable people to have their own individual homes but to share some communal features, such as washing machines. The High Street site is also a potential one for a car share arrangement.

The Community Land Trust is a charitable community benefit society originally set up by Hebden Bridge Partnership and Todmorden Pride, as a way of trying to ensure that new homes in the Upper Valley met real local needs. The Land Trust, which owns the Fielden Centre in Todmorden on behalf of the community, is also working on a small development of independent living bungalows in Walsden.

Dave Nugent adds, "High Street is our most ambitious project yet, and because unlike commercial developers we aren't doing this to make profits we intend to do all we can to make sure that the houses which are built are those which local people want to see. The emphasis will be on rented houses at affordable rents, although we are also considering shared equity houses."

More information about the Community Land Trust can be found at its website.
See also
HebWeb News: Can the ghost houses of Hebden Bridge be brought back to life? (4 Jan)