Trades Club Ground Floor work starts
Sunday, 8 January 2017
A volunteer work brigade of socialists and trade unionists has begun the task of renovating the ground floor of the Trades Club at Hebden Bridge, which was devastated by the floods of Boxing Day, 2015.
The Trades opened in 1924 as headquarters for trade unions representing more than 4,000 textile and tailoring workers whose labour ran the mills and factories of Calder Valley.
When the industries collapsed in the 1970s the unions gave the building to the local Labour Party.
The first floor is occupied by the Trades social club, which has an international reputation as a music venue. The social club was undamaged in the floods, and was a refuge, serving hot food and drinks, for people whose homes were wrecked.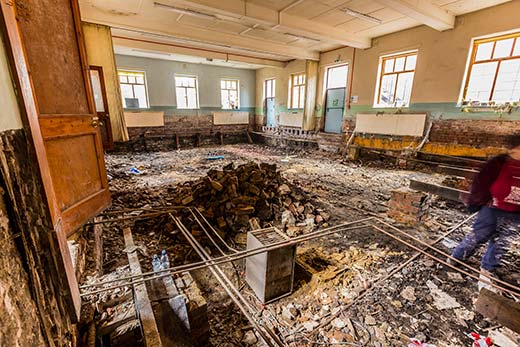 But the ground floor, comprising a community hall and Labour Party rooms, was destroyed. The water blasted up floorboards, brought plaster off walls and destroyed electricity, water and gas supplies.
Insurance settlement
Repair work could not start until an insurance settlement was achieved, which did not happen until September last year. Then a specialist asbestos removal firm had to be called in.
Ambitious plans
The local Labour Party has now drawn up ambitious plans for its renovation and return to use – including renewing the club's trade union links. The first volunteers went to work on Saturday.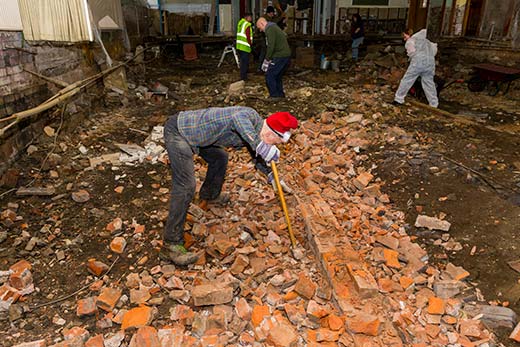 Cillr Ali Miles, one of the project organisers, said, "We are going to create a centre which will be open to the community for a range of activities, and will renew the club's historic links with trade unions. The hall will be ideal for union meetings, training, and lots more."
Saturday's first work brigade included volunteers from the valley's branch of Unite Community.
The team has to raise around £100,000 to fund the project, and is planning a series of benefit concerts at the Trades social club.
More volunteers needed
The next work brigade will be in action from 10am next Saturday, January 14, and the call has gone out for more volunteers. On Sunday afternoon, January 15, the social club will host a Morning Star benefit concert.