Pantomime and Burns Night
Monday, 9 January 2017
The Trades club will be scene of a rollicking pantomime, followed by a Burns Supper complete with haggis and pipes, on Sunday afternoon, 15 January.
The Trades is hosting a benefit concert for the Morning Star socialist newspaper. It will feature the touring Red Shed Players with their new pantomime entitled "Little Red Corbyn Hood."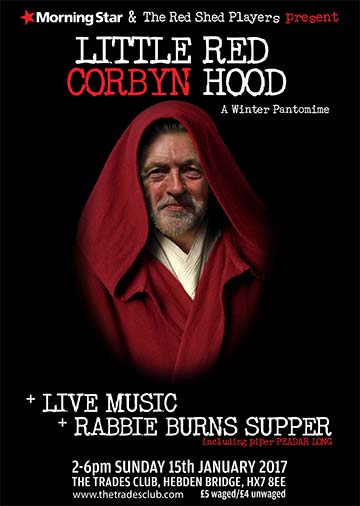 The players take their name from the Red Shed - the affectionate name for Wakefield Labour Club. The event takes place from 2pm to 6pm.
After opening numbers from Hebden Bridge's own Whisky George, the players will present their performance - said to be an irreverent and hilarious look at political life.
There'll then be live music, followed by the celebration of the life of Robbie Burns. Peadar Long, renowned musician from Luddendenfoot, will pipe in the haggis which will be served with the traditional neeps, tatties and gravy.
A raffle will feature prizes from Cuba.
Tickets are £5 and £4.